Archive for LGBTQ
When I first heard that Colby and Elyse were going to get married, I thought my heart would explode from sheer joy.  As I have written about in the past, Colby and Elyse are family to my husband and me.  But it's more than that. Over the years, it's become a kind of running joke that Mark and I and Colby and Elyse are actually the same couple.  Colby and I are spontaneous, loud, and a little unpredictable; Mark and Elyse are a little more laid-back, a bit more likely to find the corner of the room at a crowded party.  Every time we get together, Mark and Elyse whisper conspiratorially about getting me and Colby out of the house so they can sit quietly in a dark room and watch creepy movies.
At any rate, I would have been ecstatic just to attend Colby and Elyse's wedding.  But to take part in it, and to spend so much of the day with the two of them, capturing images that I hope they'll cherish their whole lives…it meant everything to me.  The whole experience was only augmented by the fact that Colby and Elyse had so carefully chosen every single detail of their day to reflect who they were as a couple.  One of the sweetest details was a fanned-out collection of recipe cards at every place setting; each card displayed a favorite recipe made by one of Colby or Elyse's grandmothers.  To top it all off, the flowers were handled by Elyse's dad, who is a florist in the Lake Norman area.  The arrangements he created for the altar were particularly lovely.    
And then there was the wonderful little bonus of watching my husband, Mark, officiate the beginning of the ceremony.  He spoke about the nature of love, and about Colby and Elyse as a couple, and then handed the proceedings off to the pastor who would complete the honors.  When Colby and Elyse recited their personalized vows to one another, I barely held myself together, and I wasn't alone.  Observing it all, seeing it through my eyes and through my viewfinder, I couldn't miss the overwhelming atmosphere of joy— first at the ceremony site, Kadi Fit, an open-concept studio space the ladies beautifully repurposed for their ceremony, and then in the upstairs venue space at the Galway Hooker, where Colby had waited tables years earlier. 
Right at the end of the ceremony, as people were heading out to the reception, the light rain that had been falling for hours decided to let up just enough for me to take the ladies out for some shots with vintage Bentley in which they were ferried to and from the ceremony site.  The results were some of my favorite romantics I've ever captured.    
From the food to the music to the company, Colby and Elyse created an experience for themselves that was unique to them.  Elyse wanted to make sure there was copious yummy food at the reception, and she scored there.  Colby's biggest priority was the music, also a huge win.  The band was the Java Band, and they were amazing.  One of my very favorite moments of the night was when Colby, a talented singer, grabbed the mic from the bandleader and sang for Elyse.  And when Elyse took the mic to thank everyone and addressed the special meaning of a night when two women were legally married…I could hardly contain my happiness and love for the two of them.  Right at the end of the night, during Colby and Elyse's exit from the reception, they ran through a gauntlet of sparklers.  Apparently, it was fun, because both ladies went back solo for a second go, thanking people as they ran. 
I can't wait to see what the future holds for these two. I love them so dang much and I am incredibly grateful to have them in my life.
Wedding Coordinator: Carla Eustache, Style Perfect Events
Ceremony Location: Kadi Fit
Reception Location: Waterford Hall, The Galway Hooker
Hair and Make-up: Lovely by Lindsey
Floral Design: Clippers Flowers of Lake Norman
Colby's Dresses: Classic Bride and Formals
Band: Java Band
Bentley Rental: Queen City Party Charters
A big thank you to Emily Renee Photography for helping me capture Colby and Elyse's wedding day and for covering me so I could spend a little time on the dance floor celebrating with my dear friends.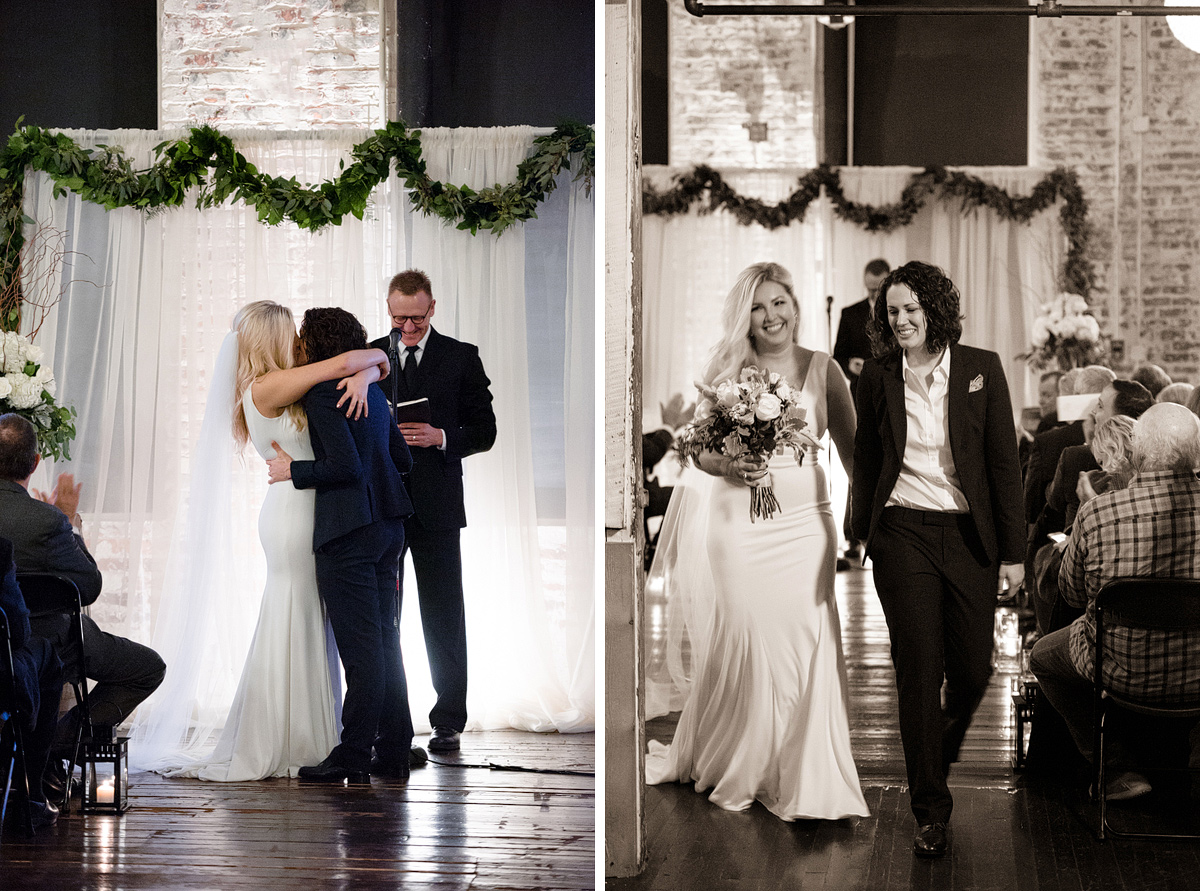 You can see images from Colby & Elyse's engagement session HERE.
When I first met Colby, she was—as we sometimes say in the South—knee high to a grasshopper.  A slight exaggeration, maybe, but I've known her for a long time.  My husband was a teacher at her high school, and by the time I actually met her in person when Colby was in her early 20s, I'd already known her name for years.  Because Colby lived in our neighborhood, we'd sometimes run into her when we were out for dinner or drinks, and we'd always find an excuse to sit together and talk.  I remember thinking that this was a girl I wanted to know.  She was smart, articulate, and talented.  I thought she was charming and beautiful. 
Fast forward a couple of years and Elyse appears at her side.  Only it wasn't that simple, or that sudden.  These two were old friends who came to know each other in high school, stayed in touch, and then discovered their love interest when the time was right for both of them.  That time happened to be when Colby and Elyse—both of whom are insanely talented musically—were playing together in a duo they called Commonwealth.  One day during rehearsal, their eyes met in a particular way…and the rest, as they say, is history.
What makes this beautiful couple work so well is that, like some of best couples, they're opposites.  They compliment each other.  Colby says that she was attracted to the kindness of Elyse's soul, to the strong and empathetic role Elyse played not only in her life, but also in the lives of so many other people in her life.  Elyse says that she was drawn to Colby's ability to truly live in the moment.  No matter what Colby is doing, she's always able to stop and to give Elyse her complete attention and affection.
Their engagement was just as magical as this perfect couple.  Elyse—out of the blue, to Colby, at least—had a town car pick them up at home.  They wound their way through Myers Park, prompting Colby to ask if Elyse had purchased a house they could never afford.  Instead, they ended up at the Elizabeth Lawrence House and Garden, which Elyse had rented out, and it was there that Elyse popped the question.  Afterwards, they ate a decadent dinner at The Fig Tree, one of the best meals they've ever had.         
At this point I should say, in total honesty, that Colby and Elyse are two of our people.  My husband and I love them—they're our family.  That our two daughters have women like these to know, love, and learn from is everything to us.  So are all the small moments we share with Colby and Elyse whenever we can.  Glasses of wine on our porch, the occasional meet-up at a restaurant, whatever.  When I think of the beauty and grace a good relationship can bring to the world, I think of these two.  I can't wait to see what the next few years bring.  I'm just hoping for the pitter-patter of little feet.   
Location: Anne Springs Close Greenway, Fort Mill, SC
Hair and Make-up: Lovely by Lindsey
Dog: Presley, as himself