Archive for LGBTQ
From the moment Rosey and Lauren met through an online dating site, they have been inseparable, and spending time with them, you can understand why. These are two deeply loving human beings whose strengths are perfectly complementary, each filling in the other's weaker spots. When I met them, one of my first thoughts was how well matched they were, not because they were so similar, but because they were so different.
It was Rosey who proposed. Or rather, it was Rosey who proposed first. She had a lovely ring designed at Morrison Jewelers and, as soon as she had it in her possession, she rushed home to propose over cookie cake and champagne. Not to be outdone, Lauren had her own ring made and proposed right back. Her plan involved a note tied to a dog's collar, but since the dog was more than content to just chew on the note instead of delivering it, Lauren had to give him a few urging pushes to get him moving. Once the note was finally delivered (slobbery, but apparently still legible) Lauren got down on one knee and asked officially.
The day of the wedding kicked off with both Lauren and Rosey getting ready in adjoining rooms at the Westin in uptown with their respective wedding parties. Once everyone was ready to roll, it was time for Rosey and Lauren's first look. And what a first look it was. Just next door to the Westin is Regions Bank, and one of the features of the building is a third-floor terrace that offers stunning views of the Charlotte skyline. This is where the ladies had their first look, and it was a moment rich in both sweetness and humor. Prior to seeing one another at this moment, neither Rosey nor Lauren had seen the other's dress, and it was a hilarious moment when they realized that, as different as their dresses were in many respects, both of them had chosen gowns with nearly identical silhouettes. It was an intimate moment and just more evidence that these two have a lifetime of sweet surprises ahead of them.
From here, we all headed over to the Design Center, which is adjacent to Byron's South End. The ceremony would take place in the atrium of the Design Center. It's really such an incredible space. The Design Center was originally built in the late 1920s as the Nebel Company's first knitting mill. The building currently operates as a multi-level office and retail space. The atrium made for a perfect ceremony site with its' lofted ceiling and open concept. Rosey and Lauren designated a portion of the room as their ceremony site using pipe a drape to define the area. A simple a-frame alter and plenty of candles made everything so lovely and romantic.
When we arrived on site we knocked out as many of the formals as possible. It would be dark when the ceremony concluded and the bride's wanted to be sure to have lots of portraits with the building's historic brickwork in the background. There was one image I absolutely KNEW I wanted to get, and I had been thinking about it ever since Rosey and Lauren told me they were using Byron's as their reception site. I wanted the brides and their wedding party (18 ladies in total) to be captured in front of the Confetti Hearts Wall, a charming and joyful mural painted by Evelyn Henson. It features oodles of colorful hearts–a few resembling the candy conversation hearts we all exchanged as children displaying messages to "love others" and "be kind". The artist hoped to create a visual reminder that the world is brighter when we consider, respect, and love each other. There's just something about so many women being gathered together to celebrate the same-sex union of their dear friends that called for this kind of portrait. The image created was my favorite of the entire day.
After we finished up with the pre-ceremony portraits, Rosey and Lauren took a few minutes by themselves to prepare for the ceremony. Each of the brides walked separately down the aisle. Lauren walked first with her father, and then Rosey made her way down the aisle accompanied by her dad in his wheelchair, which was being pushed by her brother.
The officiant was Reverend Ben Boswell from Myers Park Baptist Church. His words established such a loving and warm environment for the ceremony, and it was a special kind of joy for me to listen as he wove the story of Rosey and Lauren's love. The line I remember most vividly from his lead-in was this: "As the great philosopher Lin Manuel Miranda said, 'love is love is love is love is love is love is love is love and cannot be killed or swept aside.'" People were crying happy tears when Ben pronounced the ladies wife and wife, and then, when Rosey and Lauren raised their hands victoriously as they made their way back up the aisle, there was boisterous cheering and open weeping. I'll just go ahead and admit that quite a few of the tears shed were my own…
One more sweet moment from the ceremony I have to mention. Lauren is notorious for her card and note giving. Apparently, she designated a card-holder in the crowd, and as she and Rosey were walking back up the aisle, there was a furtive hand-off made, and then Lauren presented Rosey with the note once they were away from the crowd. Rosey was completely surprised by the gesture. Whatever was written there must have been pretty sweet, because Rosey started to shed tears of her own. I get the sense that Lauren knows exactly how to speak directly to Rosey's heart.
After a few more photos it was off to Byron's for a pretty phenomenal party. The band was Sol Fusion–there's truly no better act in town. I've worked with these guys more consistently than any other band over the years. Not only are they all crazy talented, but they're also all so genuine and kind. I am always psyched when I find out they're the main act. They put on one heck of a show and they kindly allow me to tiptoe through their performances for fantastic angles of the guests enjoying the entertainment.
After an adorable first dance with one another, each of the ladies danced with their dads–Rosey's father used a walker to stand with his daughter on her big day. Halfway through the song, they ladies switched positions and finished the song with their arms around their new fathers-in-law. I was so touched by the intimacy and tenderness that exists between Rosey and Lauren and these men in their lives. A little later, Rosey got her father on the dancefloor one more time, this time in his wheelchair, to dance with her and her mother. It was an incredible moment. Soon after, Rosey became an honorary member of Sol Fusion. Not even kidding–they should call her if they ever need a sub. That girl rocked it up there for half the night.
What a unique and fabulous celebration. I always feel fortunate to have crafted my lifelong passion for photography into my career, but it's occasions like this that really affirm my belief in people and in love. I literally counted down to Rosey and Lauren's wedding all year and, when the day finally came, I was beyond honored to have been chosen to be a part of it.
I will close with one more snippet from the ceremony, courtesy of Reverend Ben Boswell:
In the landmark decision to legalize same-sex marriage, Justice Kennedy offered an impassioned opinion on the nature of love. He proclaimed: "No union is more profound than marriage, for it embodies the highest ideals of love, fidelity, devotion, sacrifice, and family. In forming a marital union, two people become something greater than once they were. Marriage embodies a love that may endure even past death. It would misunderstand to say these men and women disrespect the idea of marriage. Their plea is that they respect it so deeply that they seek to find its fulfillment for themselves. Their hope is not to be condemned to live in loneliness, excluded from one of civilization's oldest institutions. They ask for equal dignity in the eyes of the law. And now, the Constitution grants them that right."
Thank you to the stellar vendor team that brought it all together for Rosey and Lauren's wedding day:
Huge thanks to my second photographer, Christina, of The Shutter Owl for her lovely image contributions!!

Be sure to check out Rosey and Lauren's romantic engagement session in Uptown Charlotte HERE.
When I first heard that Colby and Elyse were going to get married, I thought my heart would explode from sheer joy.  As I have written about in the past, Colby and Elyse are family to my husband and me.  But it's more than that. Over the years, it's become a kind of running joke that Mark and I and Colby and Elyse are actually the same couple.  Colby and I are spontaneous, loud, and a little unpredictable; Mark and Elyse are a little more laid-back, a bit more likely to find the corner of the room at a crowded party.  Every time we get together, Mark and Elyse whisper conspiratorially about getting me and Colby out of the house so they can sit quietly in a dark room and watch creepy movies.
At any rate, I would have been ecstatic just to attend Colby and Elyse's wedding.  But to take part in it, and to spend so much of the day with the two of them, capturing images that I hope they'll cherish their whole lives…it meant everything to me.  The whole experience was only augmented by the fact that Colby and Elyse had so carefully chosen every single detail of their day to reflect who they were as a couple.  One of the sweetest details was a fanned-out collection of recipe cards at every place setting; each card displayed a favorite recipe made by one of Colby or Elyse's grandmothers.  To top it all off, the flowers were handled by Elyse's dad, who is a florist in the Lake Norman area.  The arrangements he created for the altar were particularly lovely.    
And then there was the wonderful little bonus of watching my husband, Mark, officiate the beginning of the ceremony.  He spoke about the nature of love, and about Colby and Elyse as a couple, and then handed the proceedings off to the pastor who would complete the honors.  When Colby and Elyse recited their personalized vows to one another, I barely held myself together, and I wasn't alone.  Observing it all, seeing it through my eyes and through my viewfinder, I couldn't miss the overwhelming atmosphere of joy— first at the ceremony site, Kadi Fit, an open-concept studio space the ladies beautifully repurposed for their ceremony, and then in the upstairs venue space at the Galway Hooker, where Colby had waited tables years earlier. 
Right at the end of the ceremony, as people were heading out to the reception, the light rain that had been falling for hours decided to let up just enough for me to take the ladies out for some shots with vintage Bentley in which they were ferried to and from the ceremony site.  The results were some of my favorite romantics I've ever captured.    
From the food to the music to the company, Colby and Elyse created an experience for themselves that was unique to them.  Elyse wanted to make sure there was copious yummy food at the reception, and she scored there.  Colby's biggest priority was the music, also a huge win.  The band was the Java Band, and they were amazing.  One of my very favorite moments of the night was when Colby, a talented singer, grabbed the mic from the bandleader and sang for Elyse.  And when Elyse took the mic to thank everyone and addressed the special meaning of a night when two women were legally married…I could hardly contain my happiness and love for the two of them.  Right at the end of the night, during Colby and Elyse's exit from the reception, they ran through a gauntlet of sparklers.  Apparently, it was fun, because both ladies went back solo for a second go, thanking people as they ran. 
I can't wait to see what the future holds for these two. I love them so dang much and I am incredibly grateful to have them in my life.
Wedding Coordinator: Carla Eustache, Style Perfect Events
Ceremony Location: Kadi Fit
Reception Location: Waterford Hall, The Galway Hooker
Hair and Make-up: Lovely by Lindsey
Floral Design: Clippers Flowers of Lake Norman
Colby's Dresses: Classic Bride and Formals
Band: Java Band
Bentley Rental: Queen City Party Charters
A big thank you to Emily Renee Photography for helping me capture Colby and Elyse's wedding day and for covering me so I could spend a little time on the dance floor celebrating with my dear friends.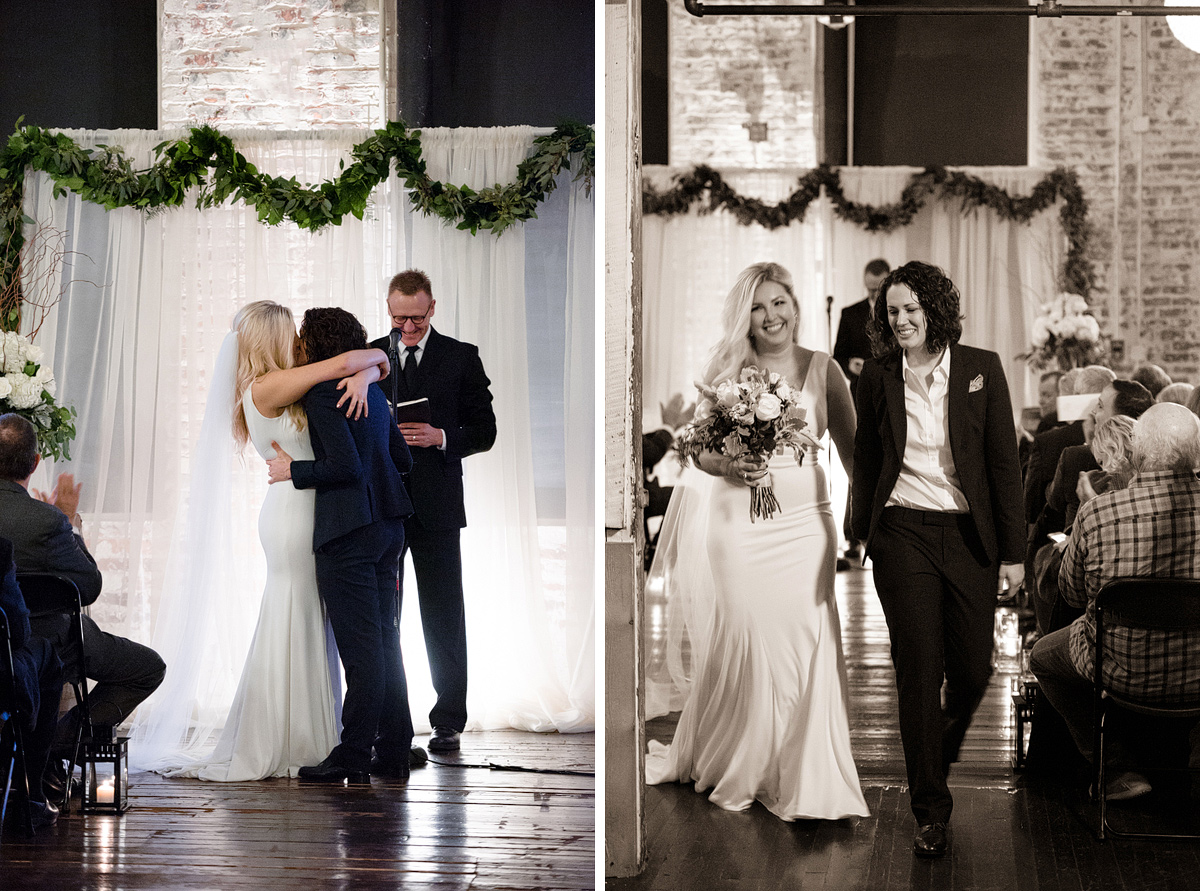 You can see images from Colby & Elyse's engagement session HERE.
When I first met Colby, she was—as we sometimes say in the South—knee high to a grasshopper.  A slight exaggeration, maybe, but I've known her for a long time.  My husband was a teacher at her high school, and by the time I actually met her in person when Colby was in her early 20s, I'd already known her name for years.  Because Colby lived in our neighborhood, we'd sometimes run into her when we were out for dinner or drinks, and we'd always find an excuse to sit together and talk.  I remember thinking that this was a girl I wanted to know.  She was smart, articulate, and talented.  I thought she was charming and beautiful. 
Fast forward a couple of years and Elyse appears at her side.  Only it wasn't that simple, or that sudden.  These two were old friends who came to know each other in high school, stayed in touch, and then discovered their love interest when the time was right for both of them.  That time happened to be when Colby and Elyse—both of whom are insanely talented musically—were playing together in a duo they called Commonwealth.  One day during rehearsal, their eyes met in a particular way…and the rest, as they say, is history.
What makes this beautiful couple work so well is that, like some of best couples, they're opposites.  They compliment each other.  Colby says that she was attracted to the kindness of Elyse's soul, to the strong and empathetic role Elyse played not only in her life, but also in the lives of so many other people in her life.  Elyse says that she was drawn to Colby's ability to truly live in the moment.  No matter what Colby is doing, she's always able to stop and to give Elyse her complete attention and affection.
Their engagement was just as magical as this perfect couple.  Elyse—out of the blue, to Colby, at least—had a town car pick them up at home.  They wound their way through Myers Park, prompting Colby to ask if Elyse had purchased a house they could never afford.  Instead, they ended up at the Elizabeth Lawrence House and Garden, which Elyse had rented out, and it was there that Elyse popped the question.  Afterwards, they ate a decadent dinner at The Fig Tree, one of the best meals they've ever had.         
At this point I should say, in total honesty, that Colby and Elyse are two of our people.  My husband and I love them—they're our family.  That our two daughters have women like these to know, love, and learn from is everything to us.  So are all the small moments we share with Colby and Elyse whenever we can.  Glasses of wine on our porch, the occasional meet-up at a restaurant, whatever.  When I think of the beauty and grace a good relationship can bring to the world, I think of these two.  I can't wait to see what the next few years bring.  I'm just hoping for the pitter-patter of little feet.   
Location: Anne Springs Close Greenway, Fort Mill, SC
Hair and Make-up: Lovely by Lindsey
Dog: Presley, as himself