Posts Tagged best impressions catering
From the moment Rosey and Lauren met through an online dating site, they have been inseparable, and spending time with them, you can understand why. These are two deeply loving human beings whose strengths are perfectly complementary, each filling in the other's weaker spots. When I met them, one of my first thoughts was how well matched they were, not because they were so similar, but because they were so different.
It was Rosey who proposed. Or rather, it was Rosey who proposed first. She had a lovely ring designed at Morrison Jewelers and, as soon as she had it in her possession, she rushed home to propose over cookie cake and champagne. Not to be outdone, Lauren had her own ring made and proposed right back. Her plan involved a note tied to a dog's collar, but since the dog was more than content to just chew on the note instead of delivering it, Lauren had to give him a few urging pushes to get him moving. Once the note was finally delivered (slobbery, but apparently still legible) Lauren got down on one knee and asked officially.
The day of the wedding kicked off with both Lauren and Rosey getting ready in adjoining rooms at the Westin in uptown with their respective wedding parties. Once everyone was ready to roll, it was time for Rosey and Lauren's first look. And what a first look it was. Just next door to the Westin is Regions Bank, and one of the features of the building is a third-floor terrace that offers stunning views of the Charlotte skyline. This is where the ladies had their first look, and it was a moment rich in both sweetness and humor. Prior to seeing one another at this moment, neither Rosey nor Lauren had seen the other's dress, and it was a hilarious moment when they realized that, as different as their dresses were in many respects, both of them had chosen gowns with nearly identical silhouettes. It was an intimate moment and just more evidence that these two have a lifetime of sweet surprises ahead of them.
From here, we all headed over to the Design Center, which is adjacent to Byron's South End. The ceremony would take place in the atrium of the Design Center. It's really such an incredible space. The Design Center was originally built in the late 1920s as the Nebel Company's first knitting mill. The building currently operates as a multi-level office and retail space. The atrium made for a perfect ceremony site with its' lofted ceiling and open concept. Rosey and Lauren designated a portion of the room as their ceremony site using pipe a drape to define the area. A simple a-frame alter and plenty of candles made everything so lovely and romantic.
When we arrived on site we knocked out as many of the formals as possible. It would be dark when the ceremony concluded and the bride's wanted to be sure to have lots of portraits with the building's historic brickwork in the background. There was one image I absolutely KNEW I wanted to get, and I had been thinking about it ever since Rosey and Lauren told me they were using Byron's as their reception site. I wanted the brides and their wedding party (18 ladies in total) to be captured in front of the Confetti Hearts Wall, a charming and joyful mural painted by Evelyn Henson. It features oodles of colorful hearts–a few resembling the candy conversation hearts we all exchanged as children displaying messages to "love others" and "be kind". The artist hoped to create a visual reminder that the world is brighter when we consider, respect, and love each other. There's just something about so many women being gathered together to celebrate the same-sex union of their dear friends that called for this kind of portrait. The image created was my favorite of the entire day.
After we finished up with the pre-ceremony portraits, Rosey and Lauren took a few minutes by themselves to prepare for the ceremony. Each of the brides walked separately down the aisle. Lauren walked first with her father, and then Rosey made her way down the aisle accompanied by her dad in his wheelchair, which was being pushed by her brother.
The officiant was Reverend Ben Boswell from Myers Park Baptist Church. His words established such a loving and warm environment for the ceremony, and it was a special kind of joy for me to listen as he wove the story of Rosey and Lauren's love. The line I remember most vividly from his lead-in was this: "As the great philosopher Lin Manuel Miranda said, 'love is love is love is love is love is love is love is love and cannot be killed or swept aside.'" People were crying happy tears when Ben pronounced the ladies wife and wife, and then, when Rosey and Lauren raised their hands victoriously as they made their way back up the aisle, there was boisterous cheering and open weeping. I'll just go ahead and admit that quite a few of the tears shed were my own…
One more sweet moment from the ceremony I have to mention. Lauren is notorious for her card and note giving. Apparently, she designated a card-holder in the crowd, and as she and Rosey were walking back up the aisle, there was a furtive hand-off made, and then Lauren presented Rosey with the note once they were away from the crowd. Rosey was completely surprised by the gesture. Whatever was written there must have been pretty sweet, because Rosey started to shed tears of her own. I get the sense that Lauren knows exactly how to speak directly to Rosey's heart.
After a few more photos it was off to Byron's for a pretty phenomenal party. The band was Sol Fusion–there's truly no better act in town. I've worked with these guys more consistently than any other band over the years. Not only are they all crazy talented, but they're also all so genuine and kind. I am always psyched when I find out they're the main act. They put on one heck of a show and they kindly allow me to tiptoe through their performances for fantastic angles of the guests enjoying the entertainment.
After an adorable first dance with one another, each of the ladies danced with their dads–Rosey's father used a walker to stand with his daughter on her big day. Halfway through the song, they ladies switched positions and finished the song with their arms around their new fathers-in-law. I was so touched by the intimacy and tenderness that exists between Rosey and Lauren and these men in their lives. A little later, Rosey got her father on the dancefloor one more time, this time in his wheelchair, to dance with her and her mother. It was an incredible moment. Soon after, Rosey became an honorary member of Sol Fusion. Not even kidding–they should call her if they ever need a sub. That girl rocked it up there for half the night.
What a unique and fabulous celebration. I always feel fortunate to have crafted my lifelong passion for photography into my career, but it's occasions like this that really affirm my belief in people and in love. I literally counted down to Rosey and Lauren's wedding all year and, when the day finally came, I was beyond honored to have been chosen to be a part of it.
I will close with one more snippet from the ceremony, courtesy of Reverend Ben Boswell:
In the landmark decision to legalize same-sex marriage, Justice Kennedy offered an impassioned opinion on the nature of love. He proclaimed: "No union is more profound than marriage, for it embodies the highest ideals of love, fidelity, devotion, sacrifice, and family. In forming a marital union, two people become something greater than once they were. Marriage embodies a love that may endure even past death. It would misunderstand to say these men and women disrespect the idea of marriage. Their plea is that they respect it so deeply that they seek to find its fulfillment for themselves. Their hope is not to be condemned to live in loneliness, excluded from one of civilization's oldest institutions. They ask for equal dignity in the eyes of the law. And now, the Constitution grants them that right."
Thank you to the stellar vendor team that brought it all together for Rosey and Lauren's wedding day:
Huge thanks to my second photographer, Christina, of The Shutter Owl for her lovely image contributions!!

Be sure to check out Rosey and Lauren's romantic engagement session in Uptown Charlotte HERE.
Mary Anne, a special education teacher, and Ethan, a budget analyst for the city of Charlotte, met each other at Matthews United Methodist youth group while volunteering with a group of middle and high school students. Ethan knew he was interested right away, and Mary Anne quickly moved from being curious about this new man in her life to the realization that there was something here she wanted to explore. After a proposal in 1st Ward park with a ring featuring a stone once worn by Mary Anne's grandmother and great-grandmother, the wedding planning got underway.
Since it was the church in which she had attended preschool and been baptized, Mary Anne and Ethan decided on Myers Park Presbyterian Church for their ceremony. I also happen to adore that venue, so I was pleased to hear the news. The reception took place at Byron's South End, where the newly renovated interior features high ceilings, exposed brick walls, and fantastic light for photography, so I couldn't have been more pleased.
Before the big day even got started, there was an adjustment. Theresa, the maid-of-honor and one of Mary Anne's very best friends, couldn't attend because she was pregnant and too close to full term to travel. One of the sweetest things about the day was that Theresa was constantly keeping up with things on Facetime. Mary Anne chatted with her while she was having her hair done and at numerous other points during the day. It was very much like she was there. At one point during the live stream of the wedding, Theresa sent Mary Anne a photo of herself, at home in her living room, watching the ceremony in her bridesmaid's dress. So sweet!
The groom and groomsmen got ready at The Catalyst, a newer structure overlooking Romare-Bearden Park. You might notice that I have chosen to include more photos than I normally would of the boys getting ready, but it was absolutely adorable watching them study videos of how to properly fold a pocket square, or how to pin a boutonniere. The guys had their pre-ceremony shots taken in the park before heading to the church.
For her part, Mary Anne waited to get into her dress until she reached the church, and then she and her bridesmaids were photographed there. Mary Anne and Ethan also had their First Look in the same walkway where they would exit from the sanctuary as husband and wife. I loved the circularity of that. A really cute moment here, too. When Mary Anne caught sight of Ethan, she remarked almost immediately on how much she liked his haircut. For some time, cutting his hair had been her province, but he'd gone in for a special do for the big day. During the ceremony itself, one of the sweetest moments was when Ethan's grandmother presented Ethan with the ring his grandfather had once worn up until he passed. She had it around her neck on a chain, but at that moment, it became the symbol of Ethan's union to his soon-to-be wife.
After the ceremony, everyone made their way over to Byron's South End. If you haven't seen Byron's since its remodel, make it a point. It's a photographer's dream. Light toned wood against beautiful brick. Bright, but not overwhelming light. I hadn't been there in some time, and I was knocked out. There were gorgeous flowers by Ashley of Bookout Blooms. I hadn't seen her work before, and the flowers were truly stunning. The band was The Diamond River Band, out of Asheville. They killed it. The lead singer's voice reminded me so much of Joe Cocker. When it came time for the last dance, the band broke into an acoustic version of Hallelujah. it gave me goosebumps.
All in all, a perfect day for these two lovely souls. For their honeymoon, they jetted off to Bar Harbor, Maine, where they whiled away their time eating lobster, riding horses, exploring Acadia National Park, and just generally relaxing.
Ceremony: Myers Park Presbyterian Church
Planner: Gathered Events and Design
Hair: Lia Watson
Makeup: Julie Metzger
Floral Design: Bookout Blooms
Reception: Byron's South End
Catering: Best Impressions Caterers
Cake: Celestial Cakery
Band: East Coast Entertainment Diamond River Band
Wedding Dress: Poffie Girls (Ella Grace)
Bridesmaids Dresses: Brideside
Tuxes: Jos A. Bank
Thank you to my second photographer, Laura, for her lovely images!
You can swoon over images from Mary Anne and Ethan's engagement session in 1st Ward Park here.
Anne and Andrew met at a Christmas party.  He hit on her, she gave him her number, and not too long afterward, Anne was saying "Yes!" when Andrew asked her to marry him—in front of a big MARRY ME sign spelled out in lights on the back fence.  Everything these guys do feels so natural and genuine and intimate.  Even their story makes you just want to giggle.  Needless to say, I was thrilled to spend their wedding day with them.
The wedding itself took place at Saint Gabriel Catholic Church.  I have had the pleasure of working here on several occasions. I love this site for its beauty and versatility.  After the ceremony, which featured a full mass, a gospel choir—only Anne and Andrew knew about it—made its way down the aisle and escorted the bride and groom out to "Oh Happy Day."  As the congregation filed out of the church, the choir moved on to "Your Love Keeps Lifting Me Higher," by Jackie Wilson.  I was crying like a baby at this point, and people were dancing out the doors of the sanctuary.  Can't ask for more than that from an exit.
After the ceremony, I led the wedding party to Marshall Park in Uptown Charlotte for some post-ceremony portraits.  It was fantastic to have a variety of settings for the formals, and I adore the way they turned out.  In particular, I was thrilled when Andrew busted out his vintage Reebok pumps (as he had promised he would) for some of the shots. And I love the images of the entire wedding party on the steps that lead up to the neighboring courthouse, complete with a photobomb from the groom's sister-in-law. I later learned that this was payback for the groom's similar behavior on her big day. It was perfect!
When we finished up at the park, we all trucked on over to the Palmer Building, another of my favorite venues in Charlotte.  Anne and Andrew, both Catholics, loved the building's connection to firefighters, so they were sold on the venue.  Man, did they make it their own with about a million personal touches.  From the table numbers and framed family photos to the lanterns and reclaimed light fixtures, Anne and Andrew brought all of who they are into the decorating.  Anne described their décor at the wedding as kind of a bohemian romantic look with a mid-century modern twist—I loved every bit of it, and I think she's dead on.  The arrangements from The Flower Diva were lush and organic. I thought the picture frames were a particularly sweet touch—each frame contained a wedding photo of an admired couple from one of their families.  Pretty cute.  And the nostalgic vibe went along perfectly with the song to which Anne and Andrew danced their first dance: Orange Colored Sky, by Nat King Cole.
The food—which was absolutely delicious, especially the cobbler bar—was created by Best Impressions Catering, and the music was provided by the always fantastic Spintastic Sounds.  All in all, it was a truly individualized event, one full of the kinds of personal touches and genuine feeling that make a wedding impossible to forget.  After the wedding, Anne and Andrew headed off to Asheville for a couple of days, and they have plans to continue their honeymoon a few months from now in Barbados.
Ceremony Location: St. Gabriel Catholic Church
Reception Location: The Palmer Building
Reception Coordinator: Jessica Alexander
Videographer: Crown Alley Films
Floral Design: The Flower Diva
Cake: Jimgerbread
Catering: Best Impressions
Hair and Makeup: The LaLa Girl
Dress: Eddy K Bridal from BHLDN
Choir: Voices of Eden
Thank you to my second photographer, Emily, for her beautiful images!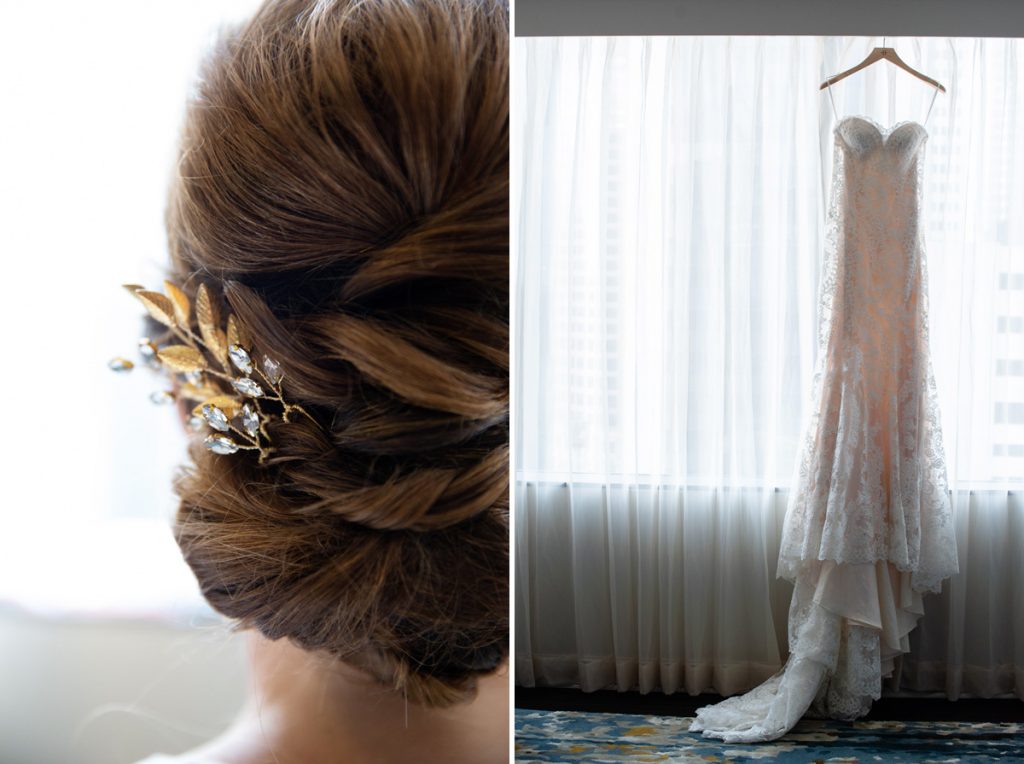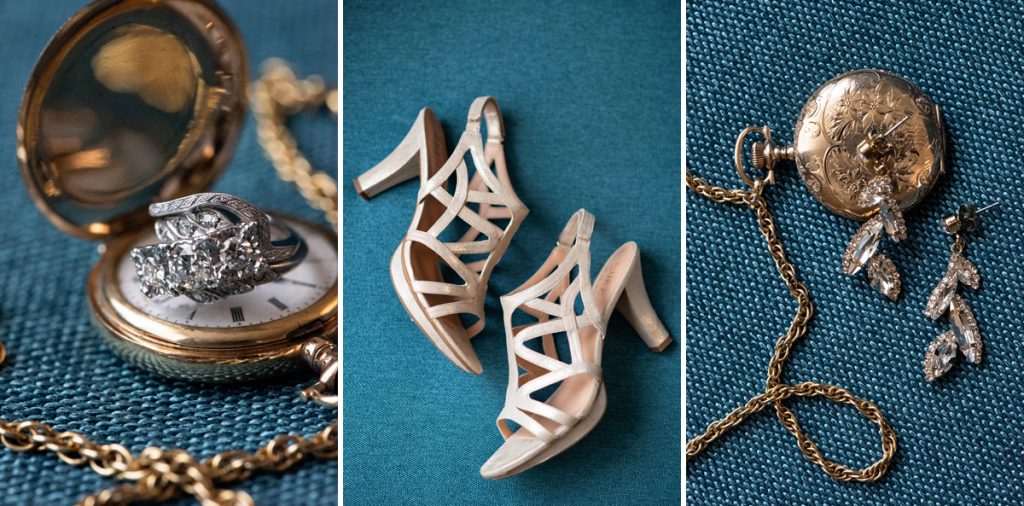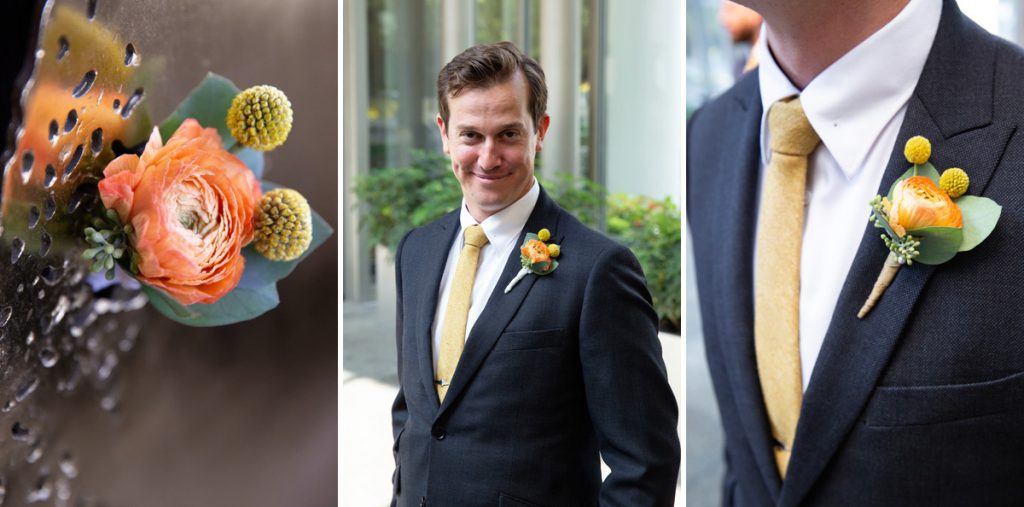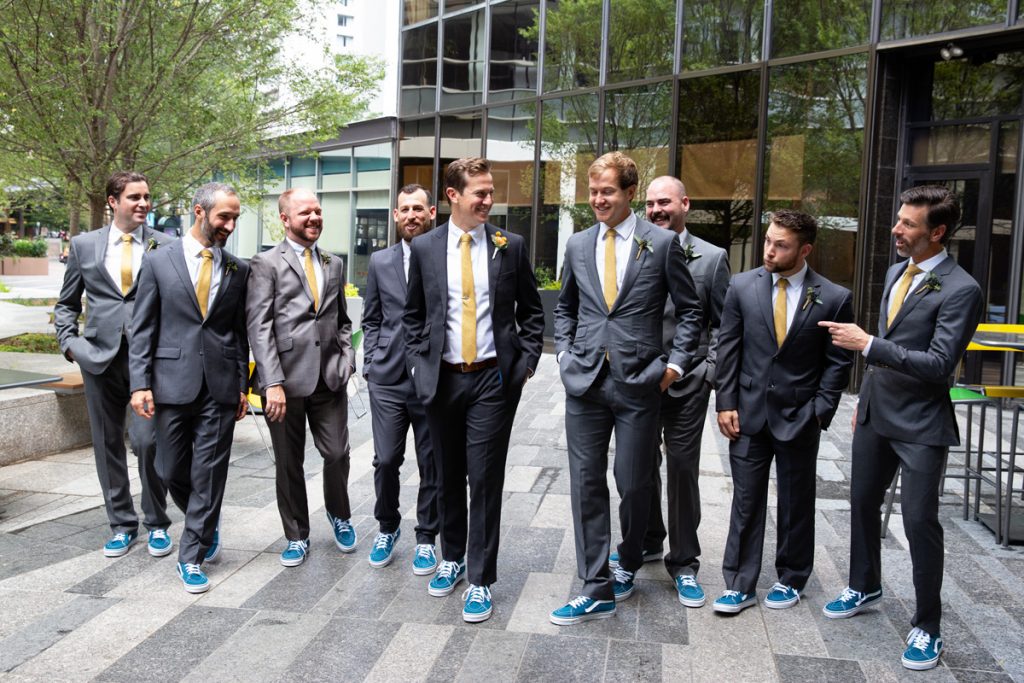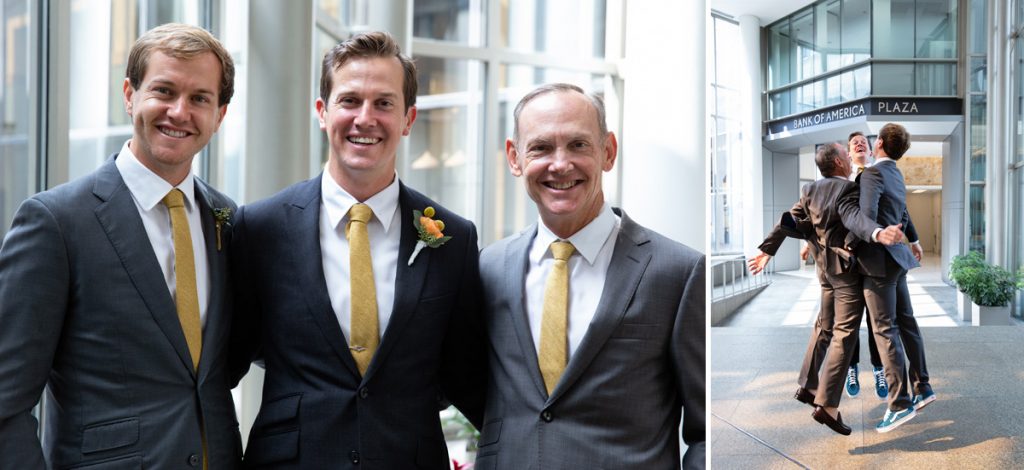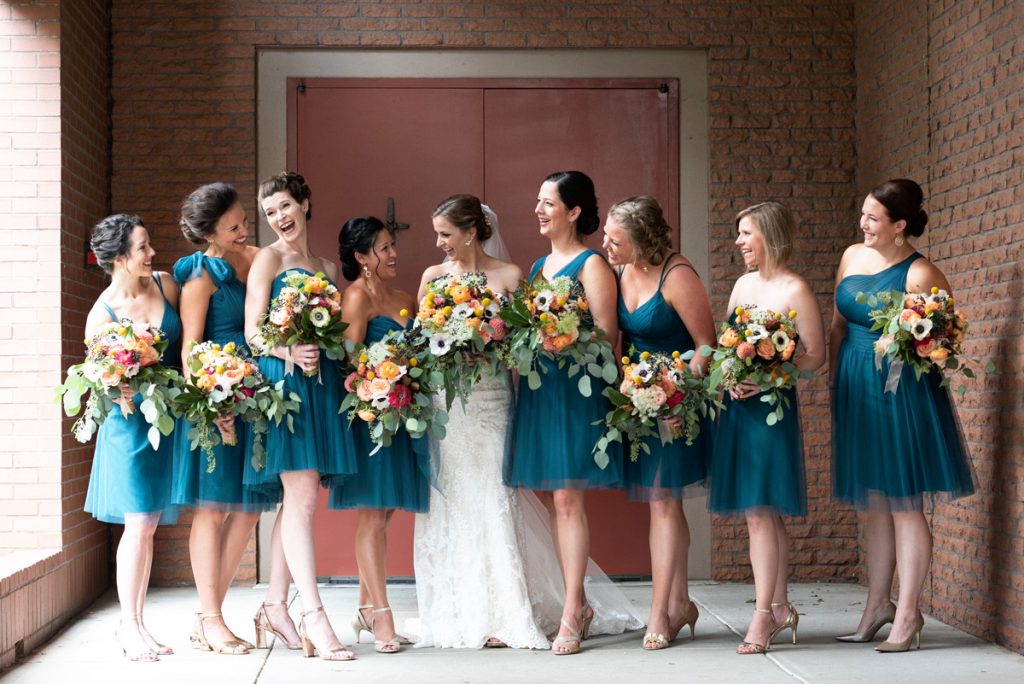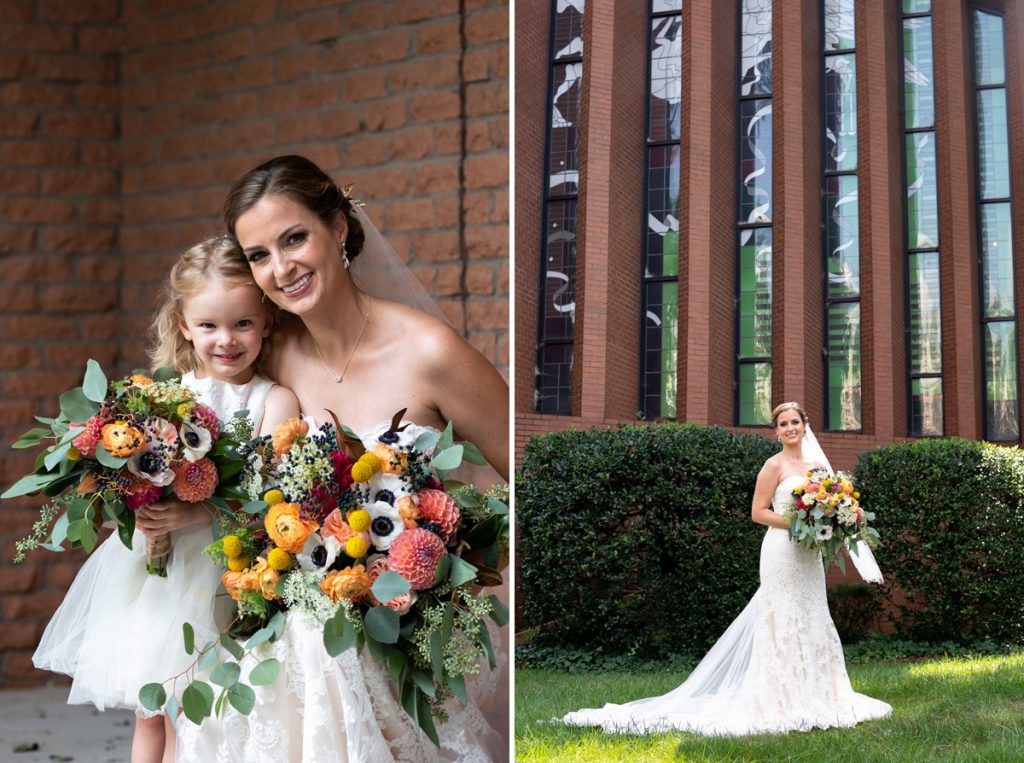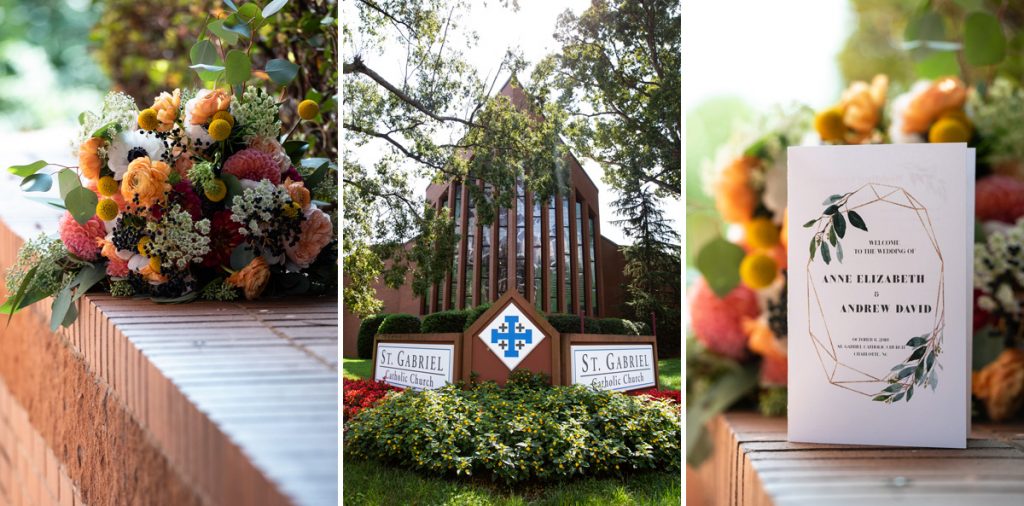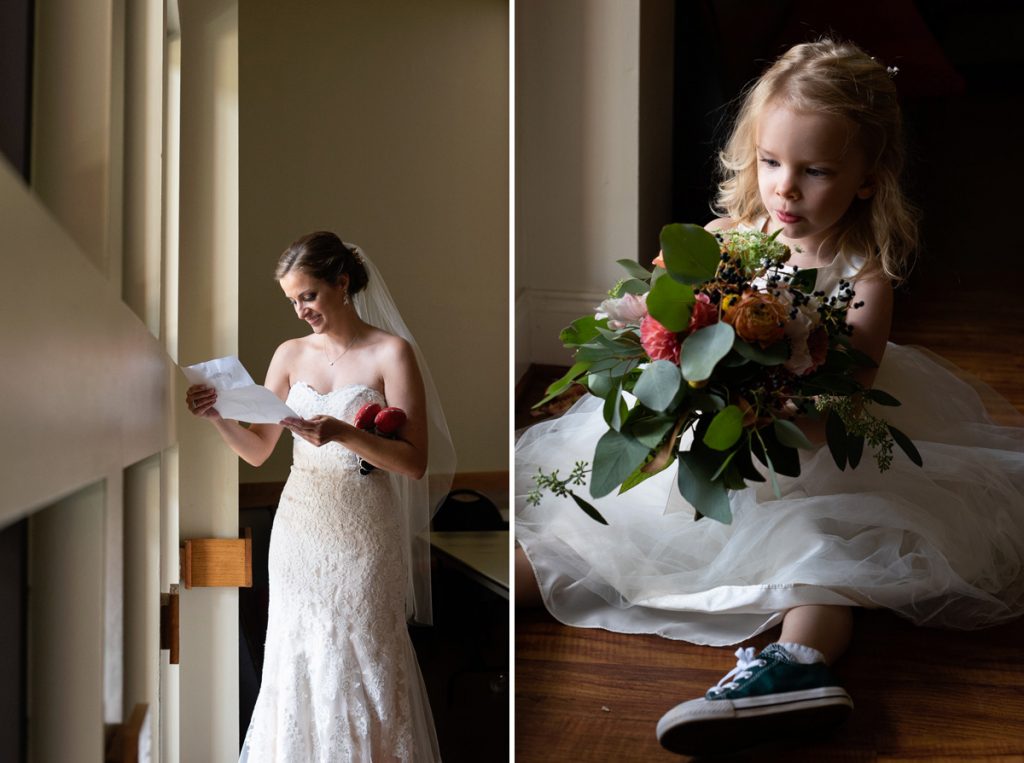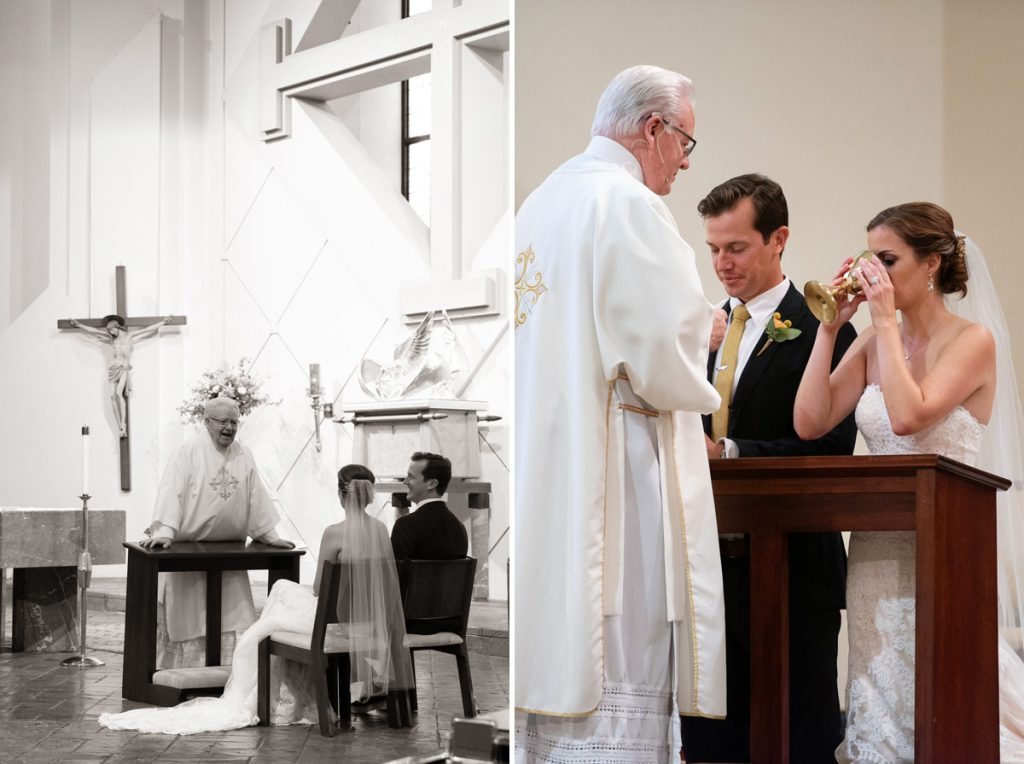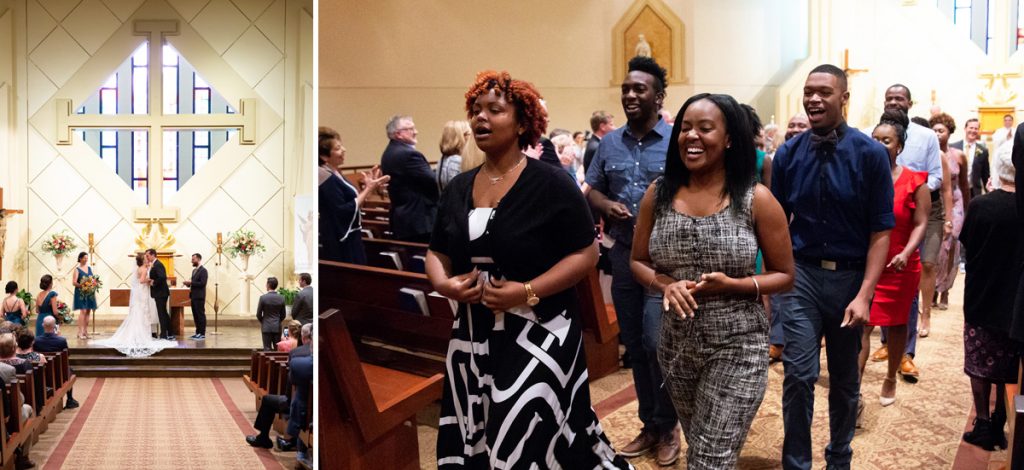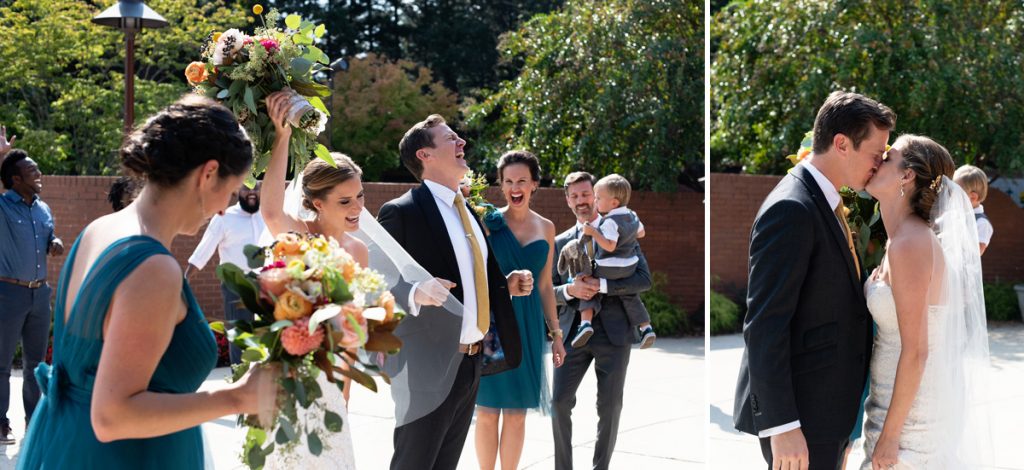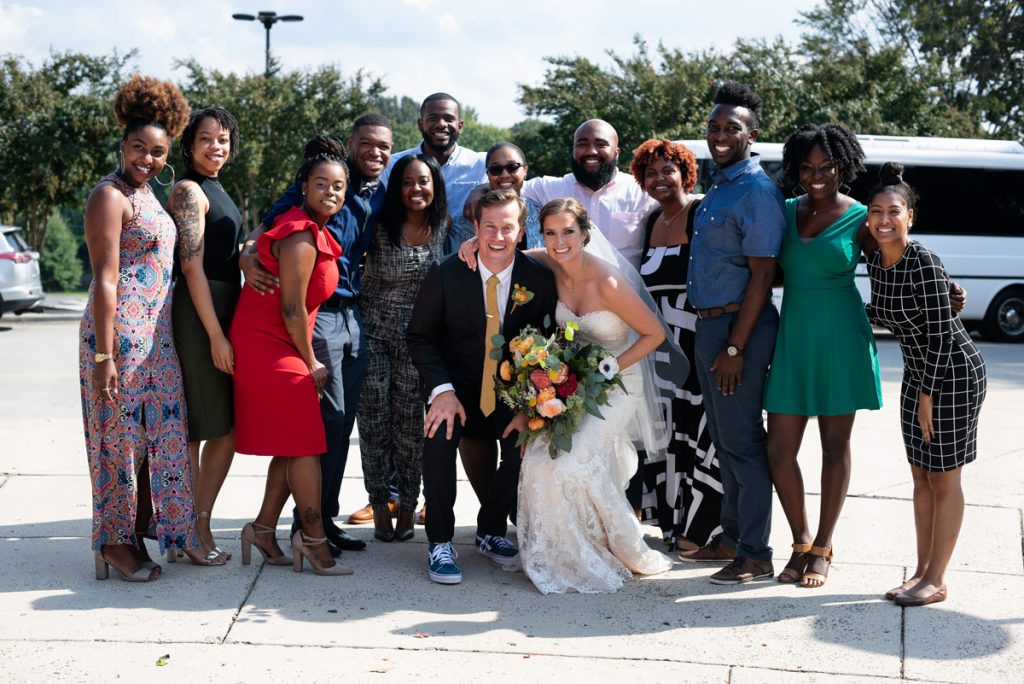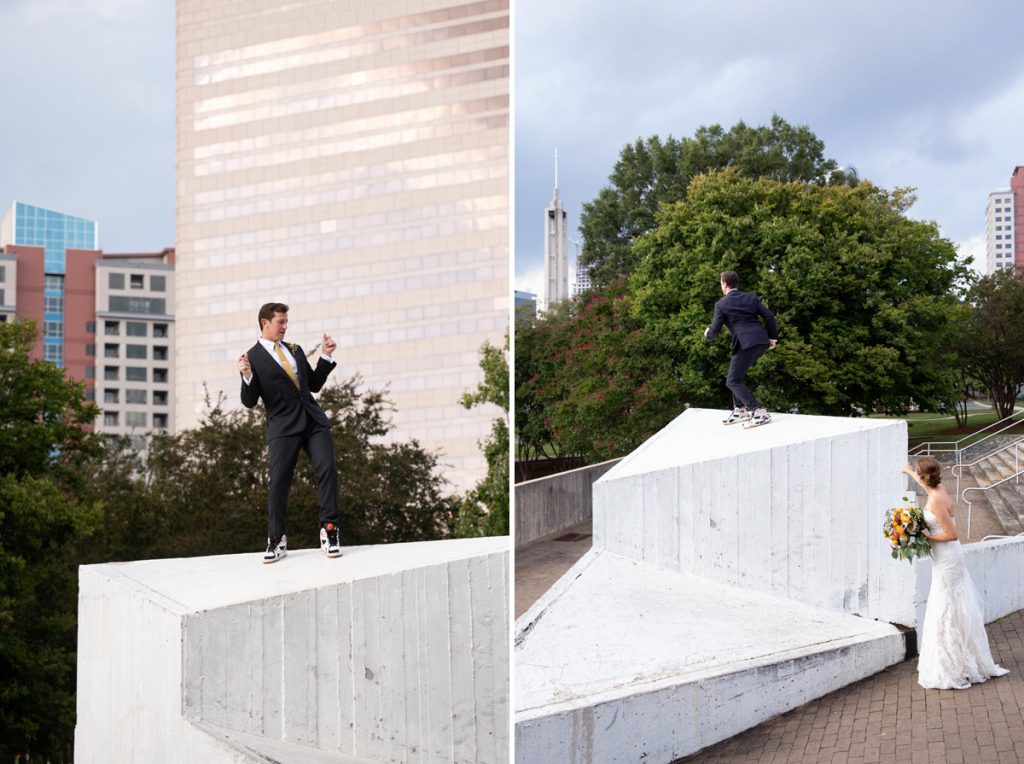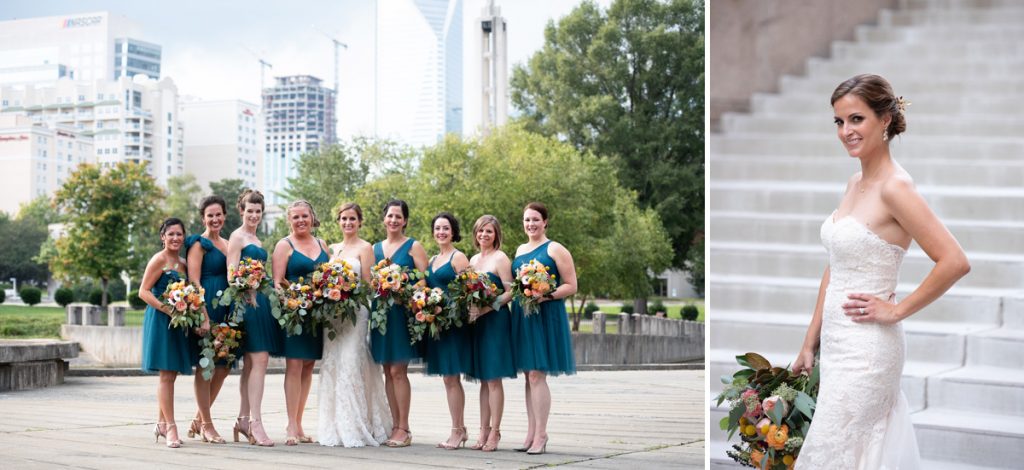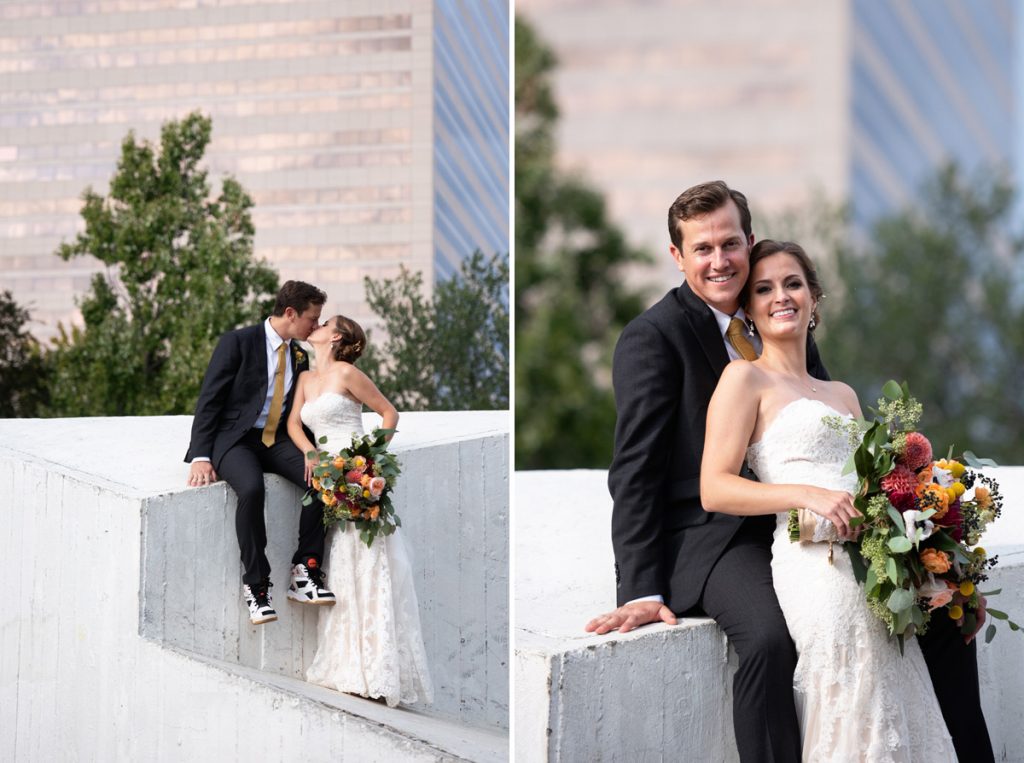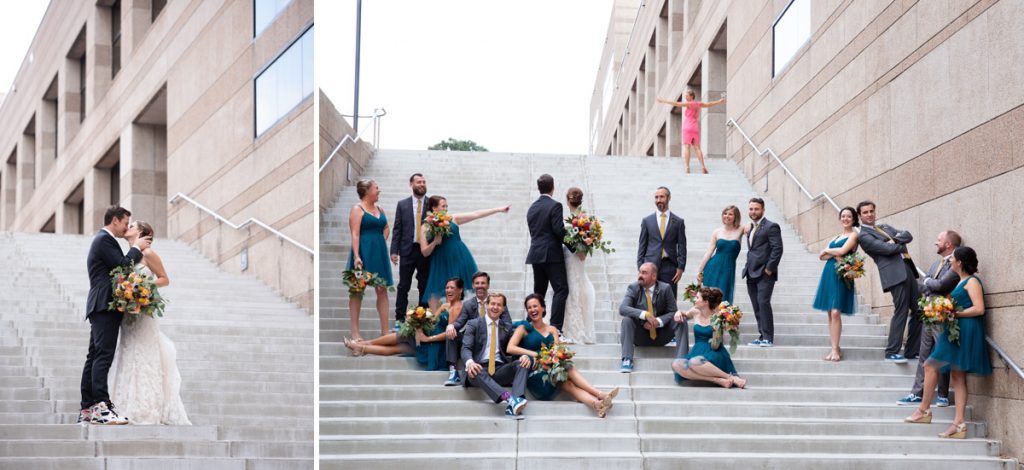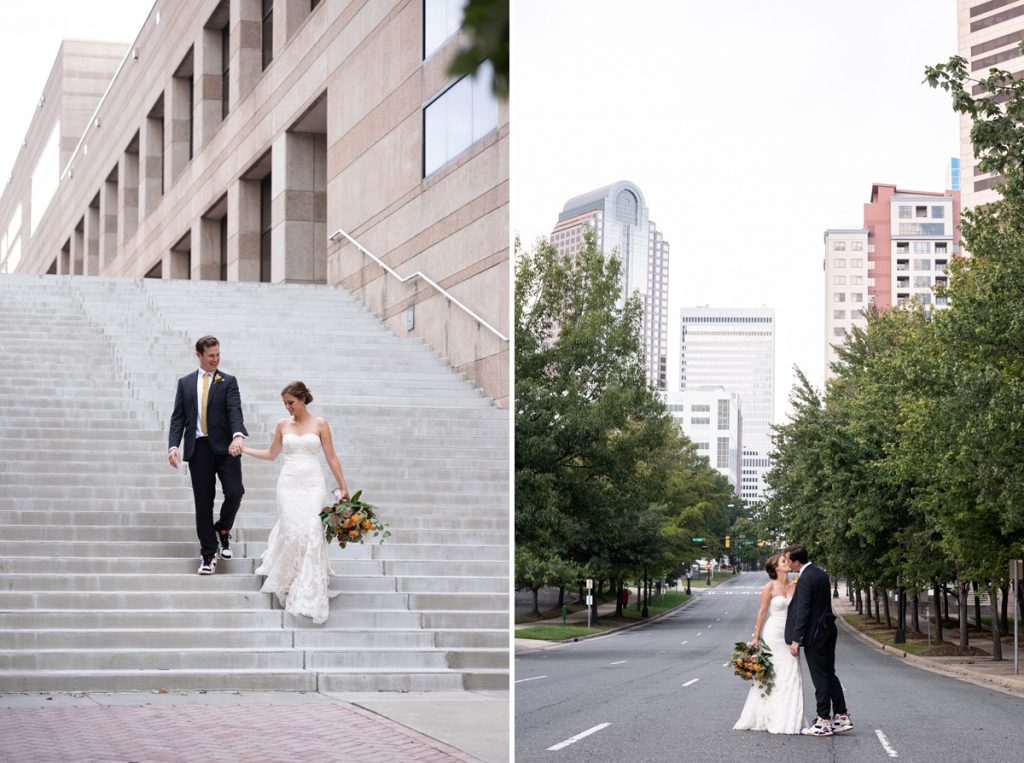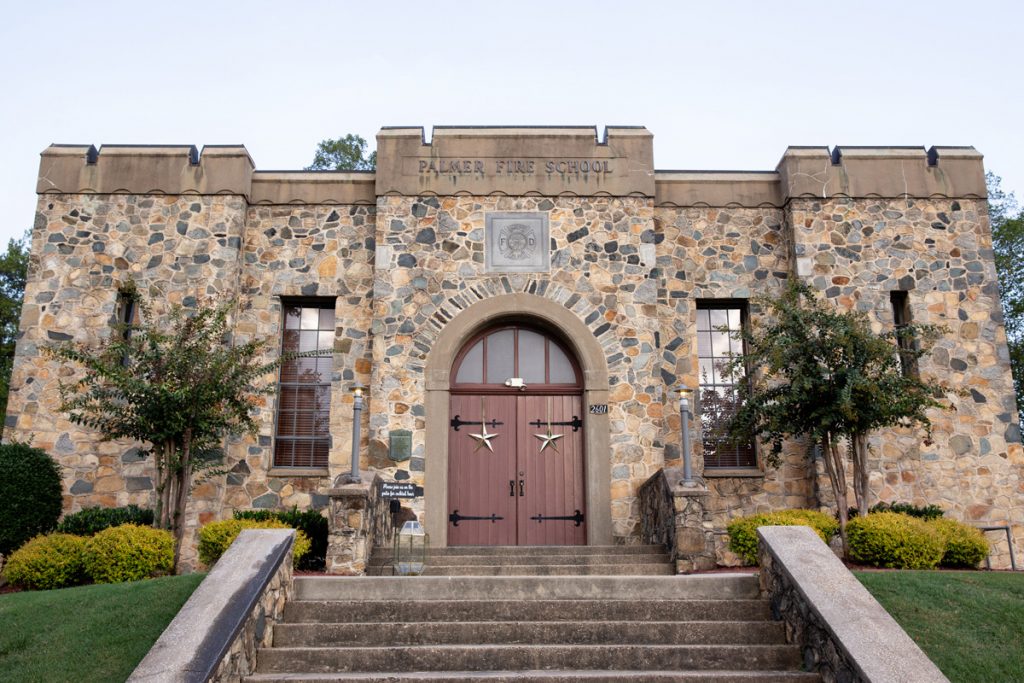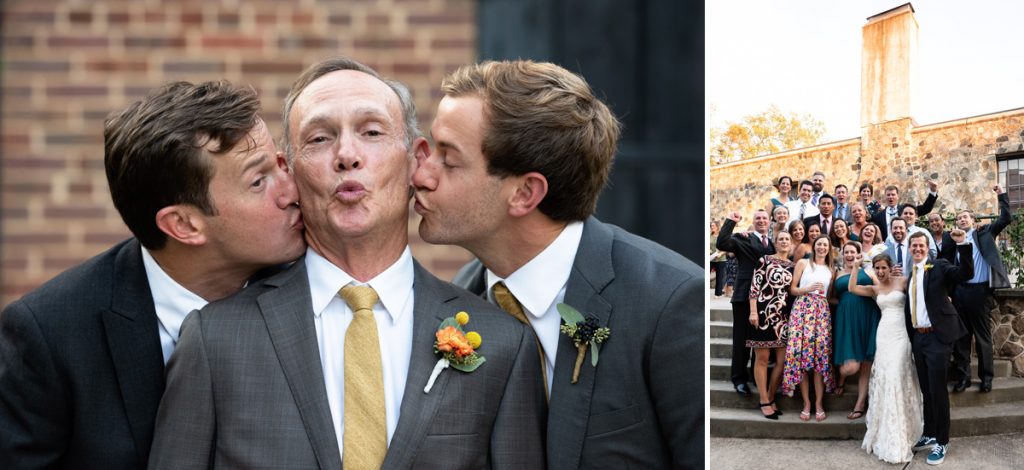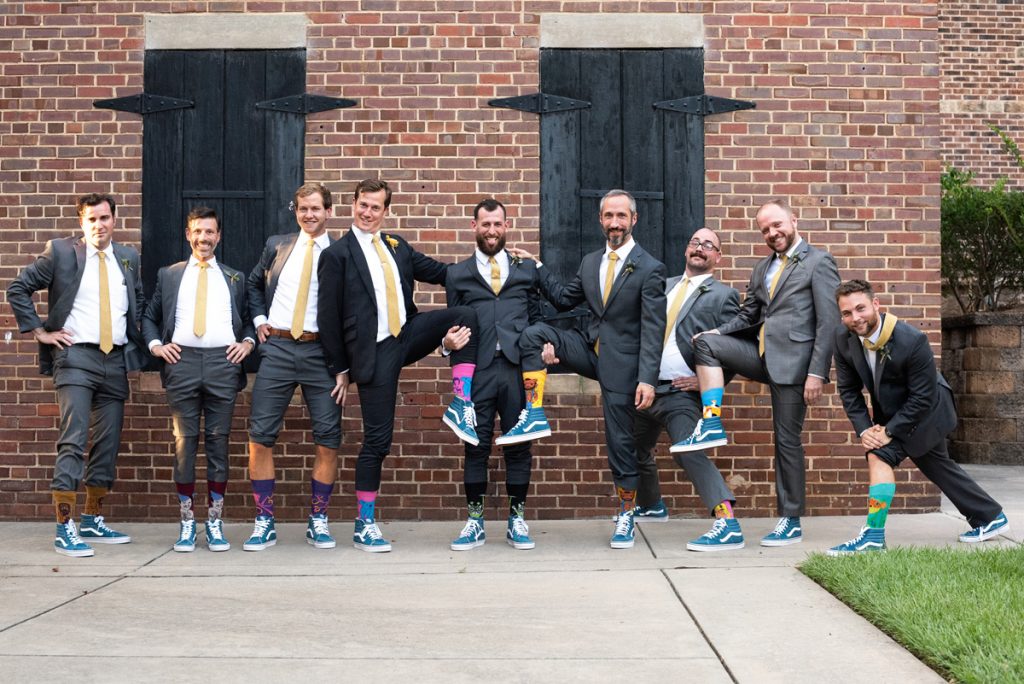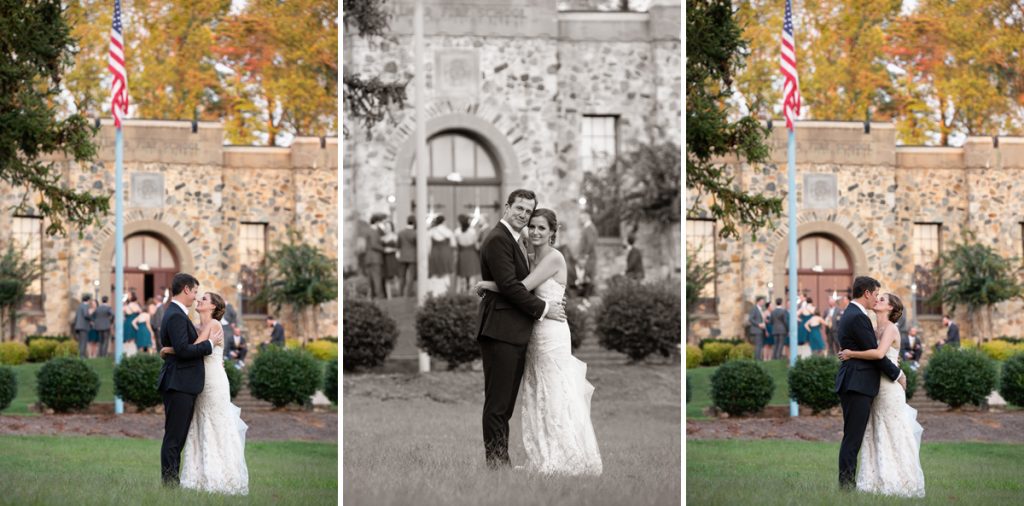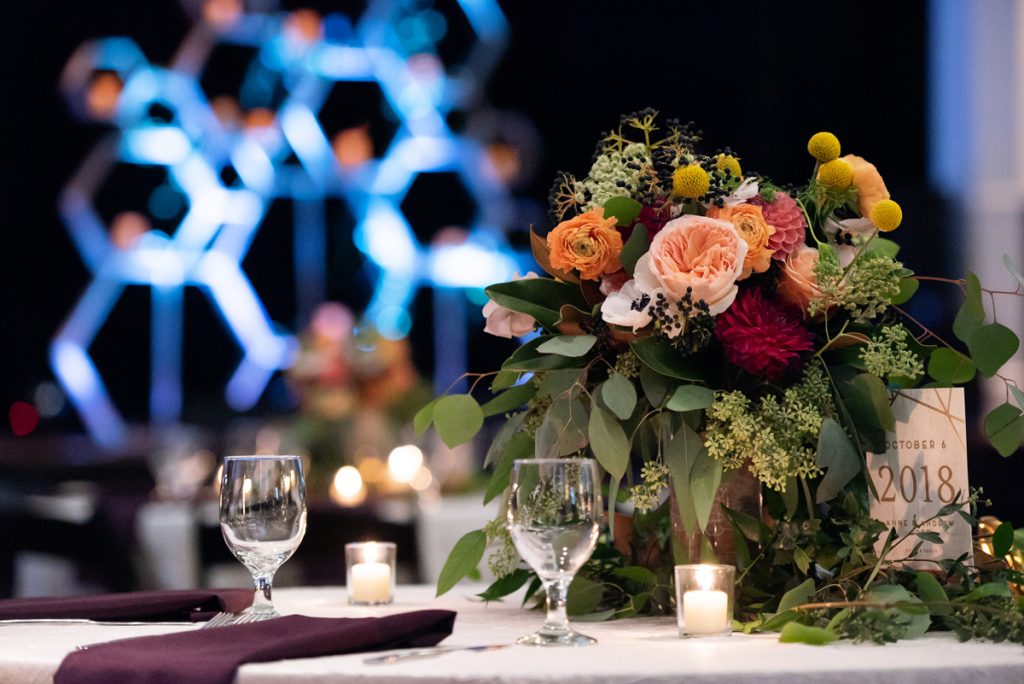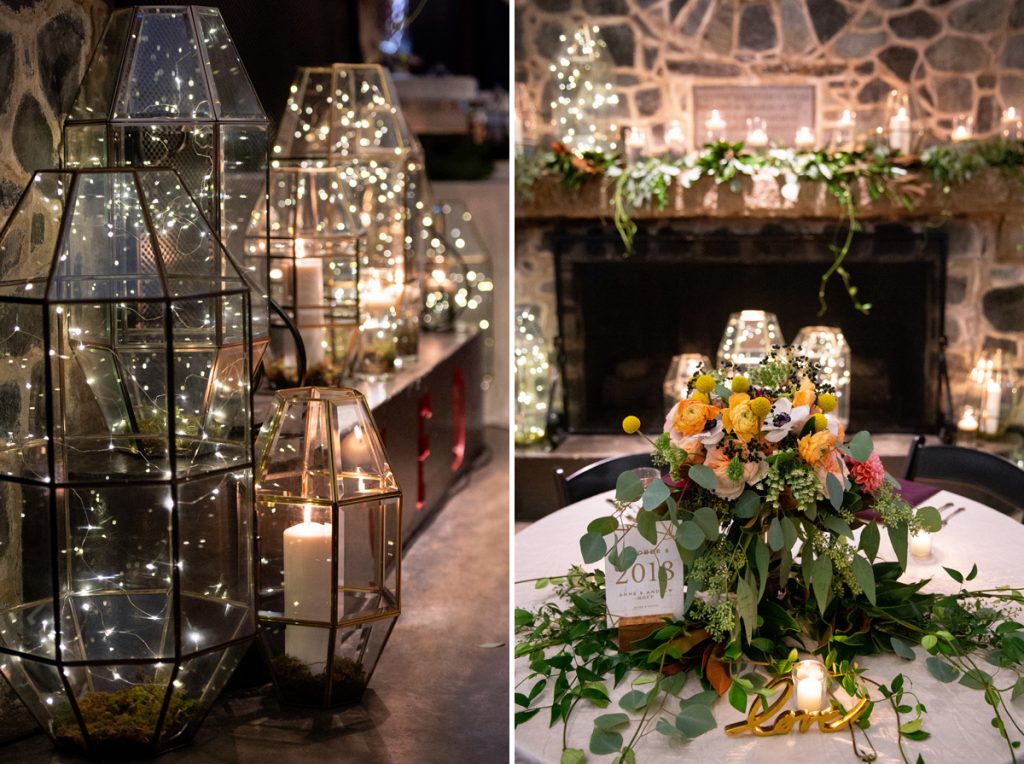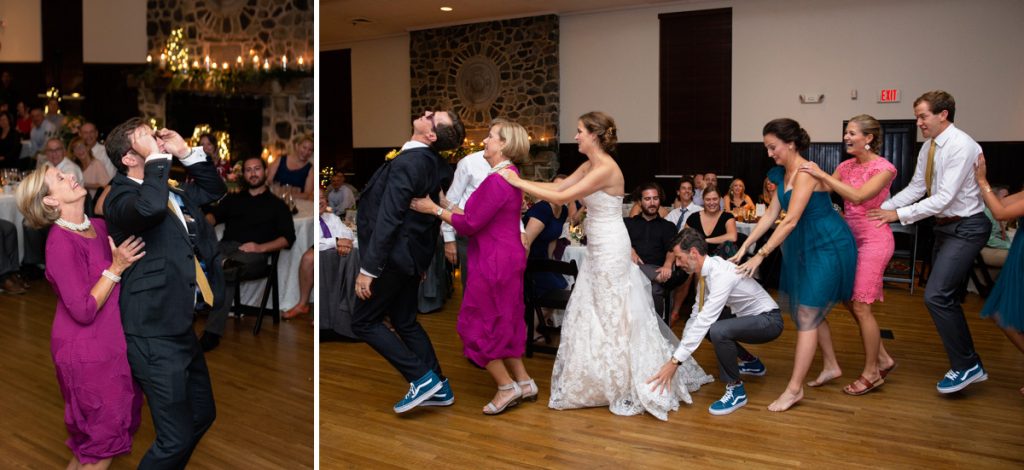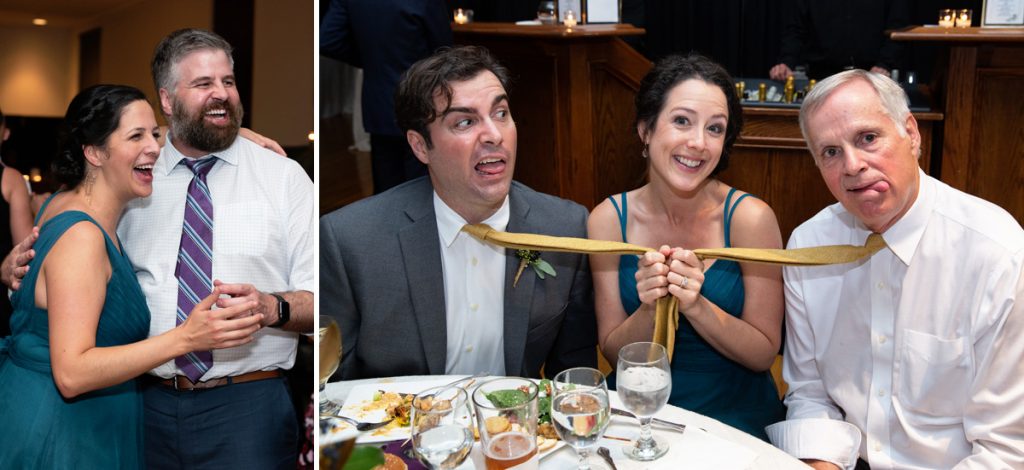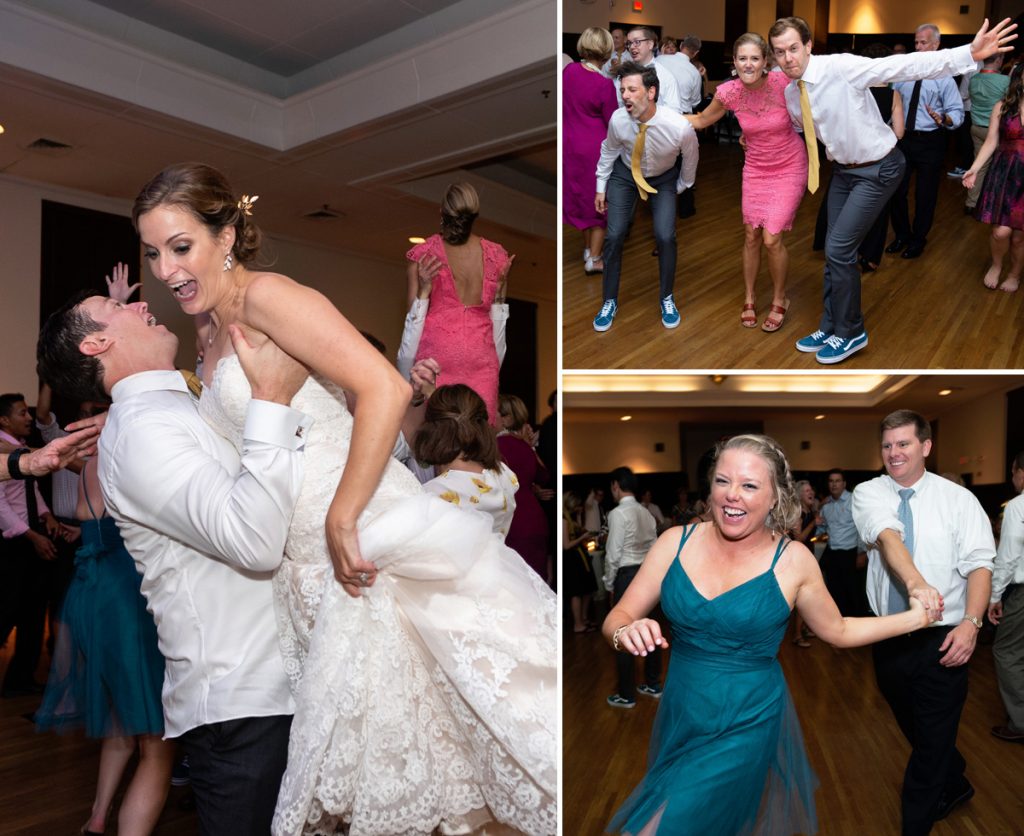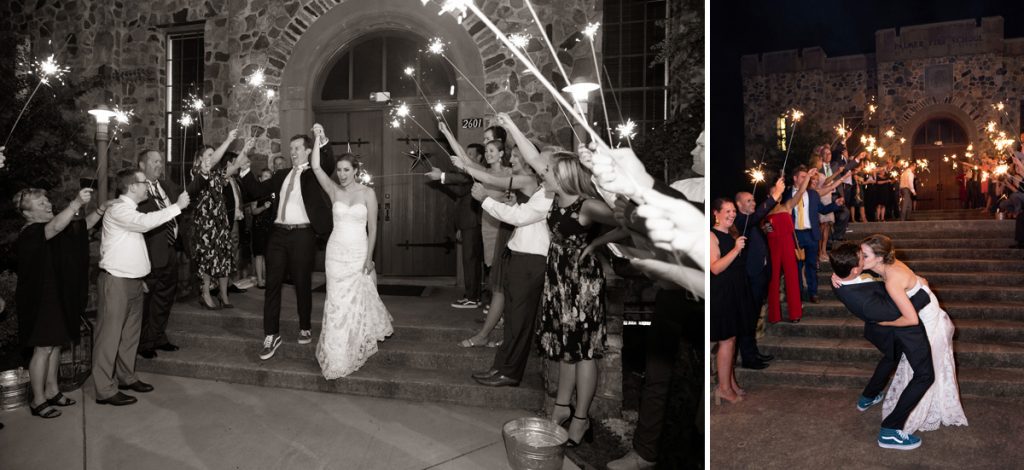 To see images from Anne & Andrew's engagement session, which took place at 3 different Charlotte locations, click HERE. You have to see the adorable shots with their sweet pup, Goonie!