Sara Caitlyn and Andrew's first date was at Thomas Street Tavern in Plaza-Midwood.  It's a spot I know well from my own early days with my husband, and I can picture them there, talking and getting to know one another's quirks and histories, all of those initial little details that tell you whether this person is just another one, or THE one.  Their initial date led to another, and before too long Andrew was dropping to one knee in the kitchen on New Year's Eve, giving Sara Caitlyn just the proposal she'd always wanted.
First Presbyterian Church is one of my favorite ceremony sites in town, so I was delighted when I heard that Sara Caitlyn and Andrew had chosen it for their wedding day.  The tone they wanted to set for the event was simple and classy, and First Presbyterian fills the bill perfectly.  Adding to the meaningfulness of the choice was the fact that Sara Caitlyn's mother works at the church, so it's been a part of her life for a long time.
Before the ceremony, we had the first look on the patio of the new Merchant and Trade, situated on the rooftop of the Kimpton Tryon Park Hotel. It was the perfect spot for that sweet moment between the bride and groom.  Then we headed down to Romare Bearden Park for pre-ceremony shots of the guys and girls.  The fall had been dragging on and on, so there was still a touch of color on the trees.  From there, we returned to First Presbyterian and knocked out all of the family portraits.  It was a fantastic choice for an autumn bride; it gets dark quite early in the late fall, and taking care of all the family shots prior to the ceremony really loosened up the schedule and gave us that exceptional late afternoon light. I am particularly fond of the moments captured between Sara Caitlyn, Andrew, and their grandparents. The bride and groom were so lucky to have some of them by their side on their big day. I haven't had the blessing of grandparents in my life for some time now so, if a couple is blessed by the presence of theirs on the wedding day, you better believe I am going to make sure to get some unforgettable images of them together.
Just before the ceremony, I spent a final few minutes with Sara Caitlyn and Andrew in the back stairwell of the church as they exchanged letters they'd written for one another.  The moment was incredibly sweet, but I'd be remiss if I didn't also mention that their conversation eventually turned to Taco Bell.  Leading up to the wedding, they'd put themselves on a self-imposed Taco Bell diet, and by the time the ceremony rolled around, they were reduced to reciting the menu to each other and giggling. It was perfect. And now I want a Mexican pizza. Anyways…
After a lovely ceremony, I captured some charming shots of Sara Caitlyn and Andrew exiting the oversized wooden front doors of the church and down the candle-lit front steps.  There's an image of them sharing a kiss that is straight out of a storybook.  After a handful of additional portraits at the church, the newlyweds climbed into a horse-drawn carriage, enjoyed a lap around the Queen City, and then headed for the reception.
The reception took place at the Kimpton Tryon Park Hotel, one of the newest venues in town.  I've been working with them since before the hotel opened, and with their absolutely beautiful building and commitment to customer care, it was an ideal choice for Sara Caitlyn and Andrew.  When they arrived, the bride and groom headed to a private room to have a bite to eat. Their time together was briefly interrupted when Sara Caitlyn's grandparents, Fritz and Nancilynn (who have been married for over 50 years!!) presented them with Nancilynn's "world famous" coconut cake, complete with the lace bell cake topper from their own wedding decades before.  It was such a precious moment to witness, and the cake was heavenly.
Once the bride and groom made their grand entrance into the ballroom,  the party really got going. Their band, Right to Party, kept things hopping all night. When the festivities eventually drew to a close, Sara Caitlyn and Andrew made a bubble exit—the result of a bubble machine and bubbles of the more traditional mouth-blown variety—down the beautiful glass stairs into the lobby of the hotel and headed off into their new lives.
For their honeymoon, these two lovebirds headed to Antigua, where they had no particular agenda save for maximum relaxation and decompression.  So happy for Sara Caitlyn and Andrew–such a well-matched pair.  It was an absolutely perfect night, and I feel so fortunate to have been a part of it.
Wedding Coordinator: Anna Pecoraro
Wedding Venue: First Presbyterian Church
Reception Venue: Kimpton Tryon Park Hotel
Hair and Makeup: Lovely by Lindsey
Floral Design: Lily Greenthumbs
Cake Artist: Villani's Bakery
Catering: Kimpton Tryon Park Hotel
Videographer: Life Stage Films
Band: Right to Party
Bridesmaid's Dresses: Lily Rose Bridal
Tuxes: The Tuxedo Shoppe
Carriage: Southern Breezes
Thanks to Emily of Emily Renee Photography for her beautiful images. I always LOVE working with you!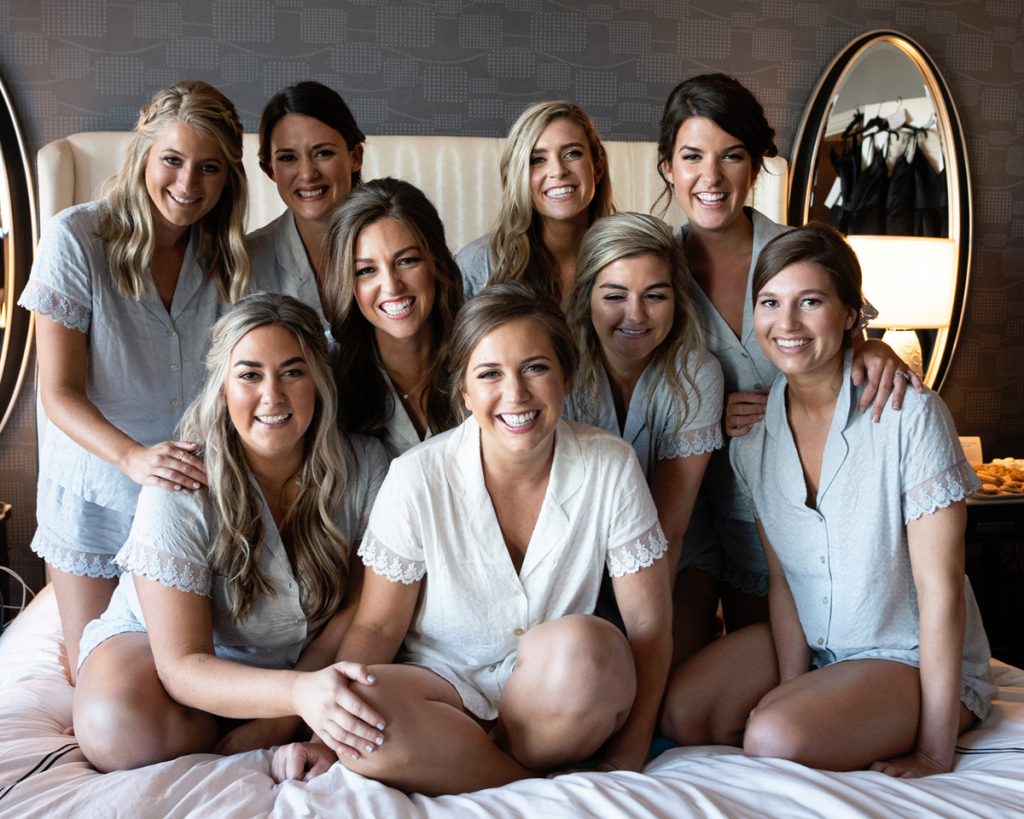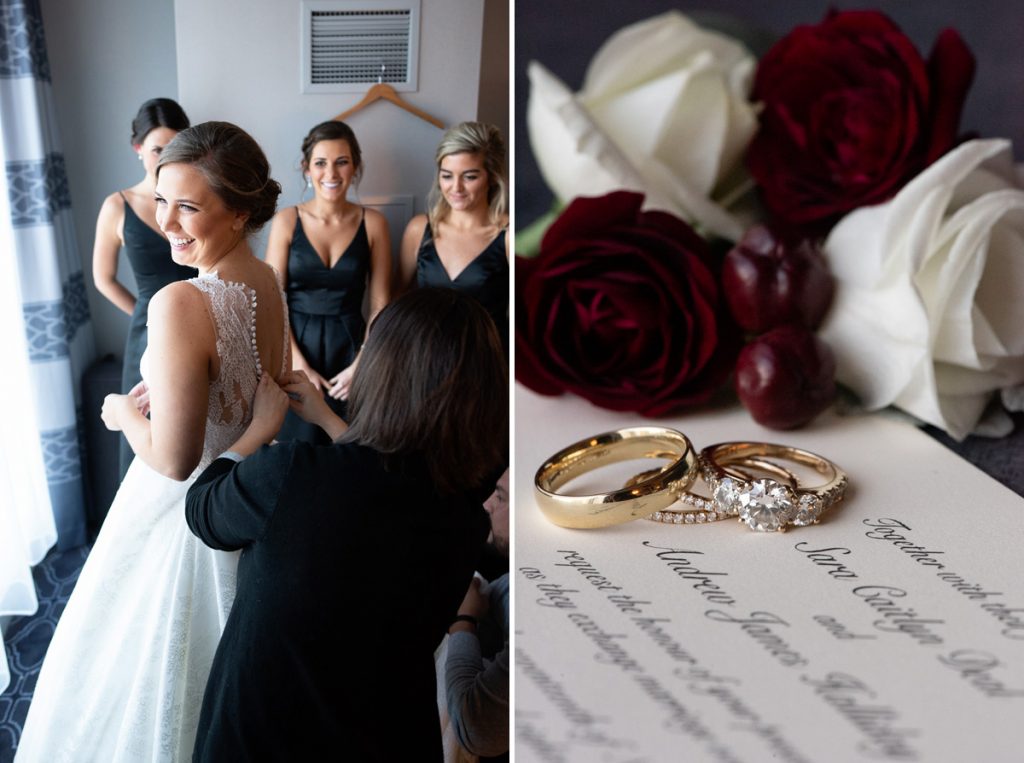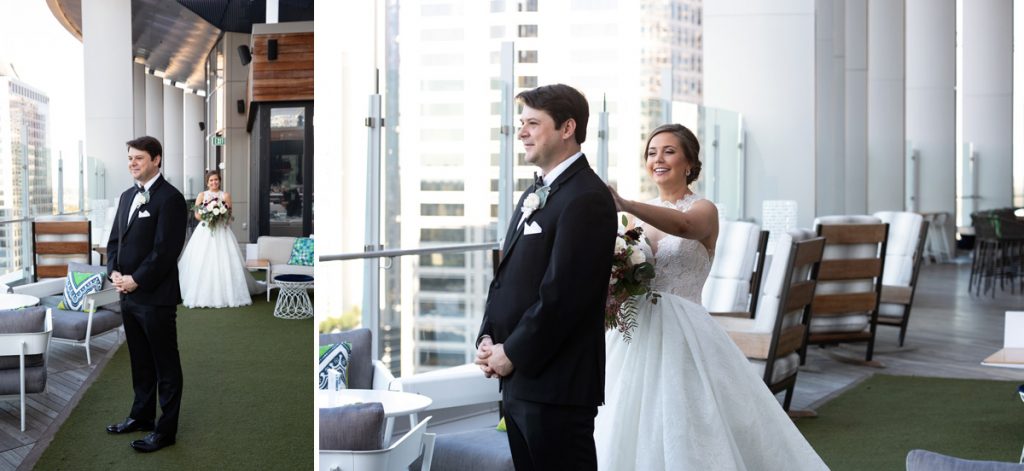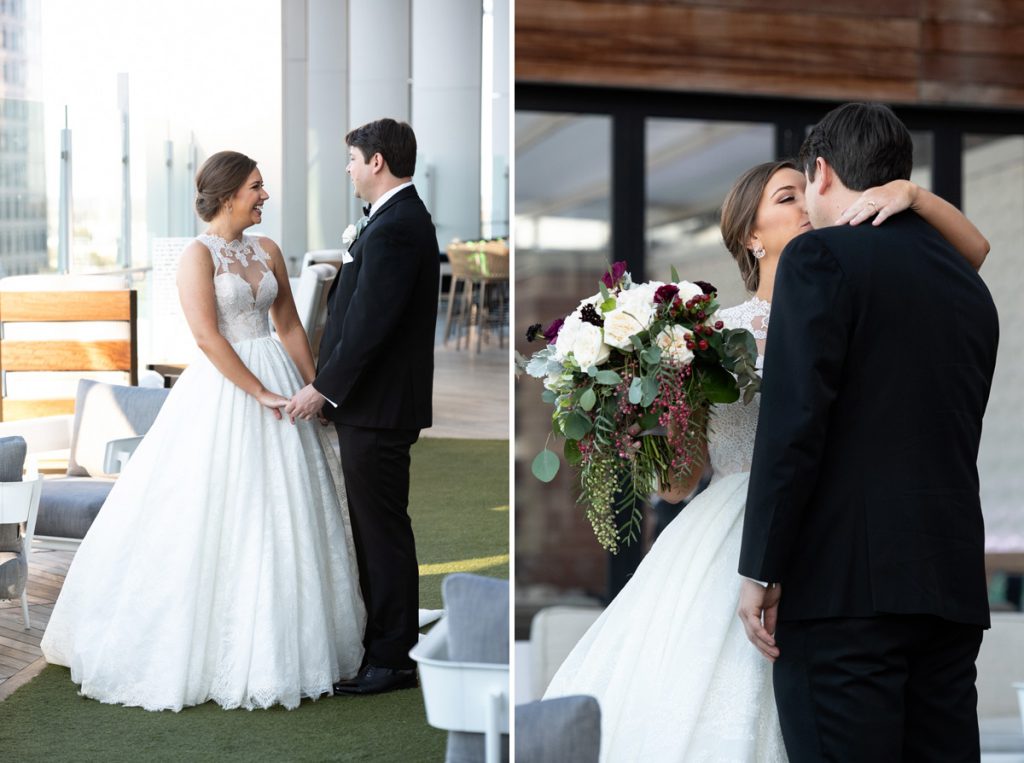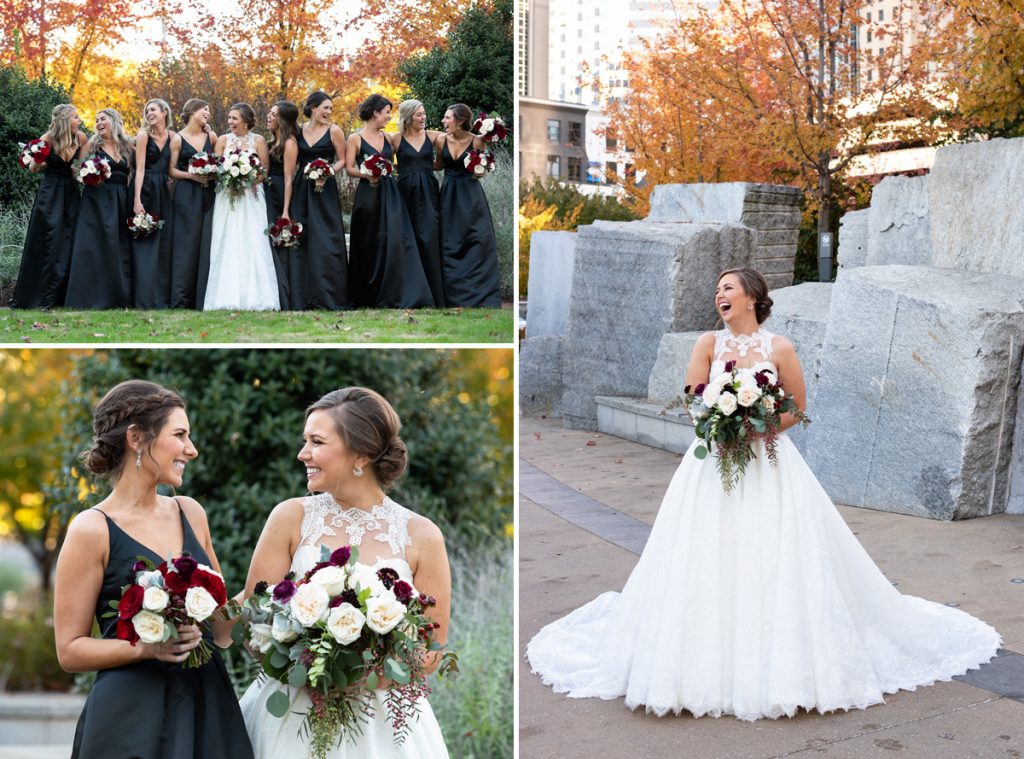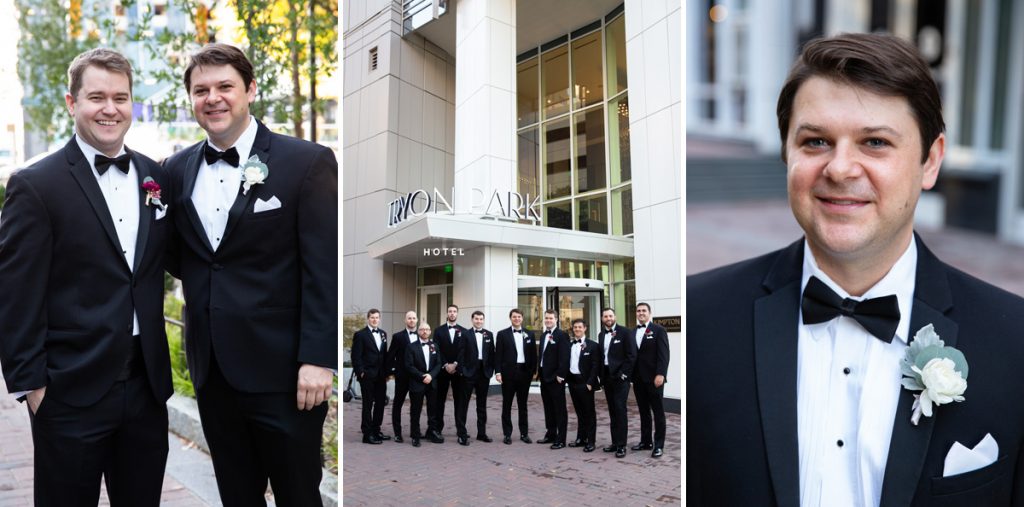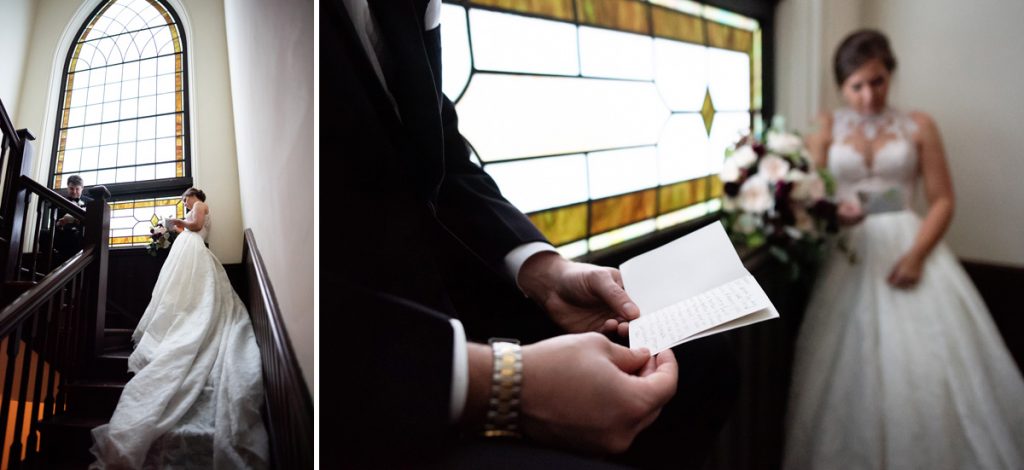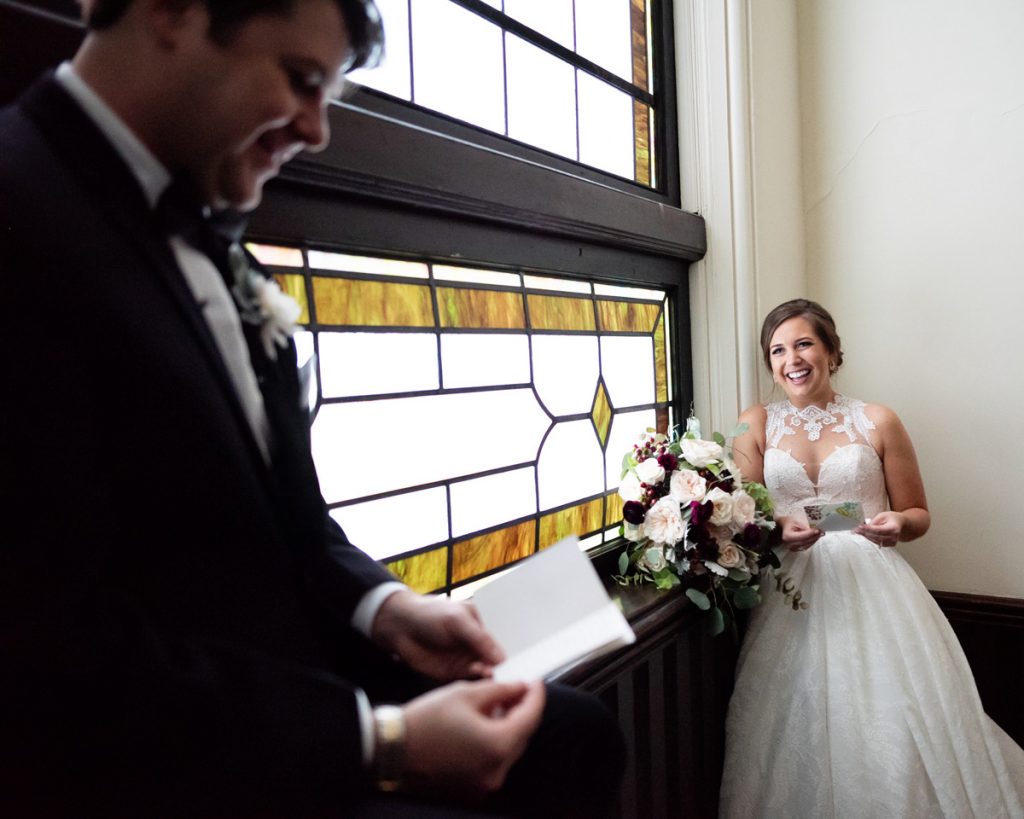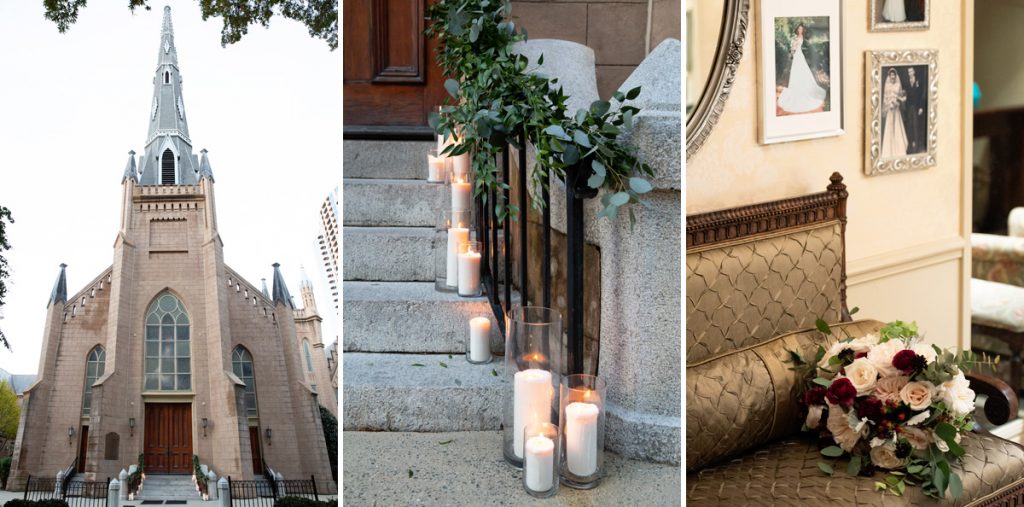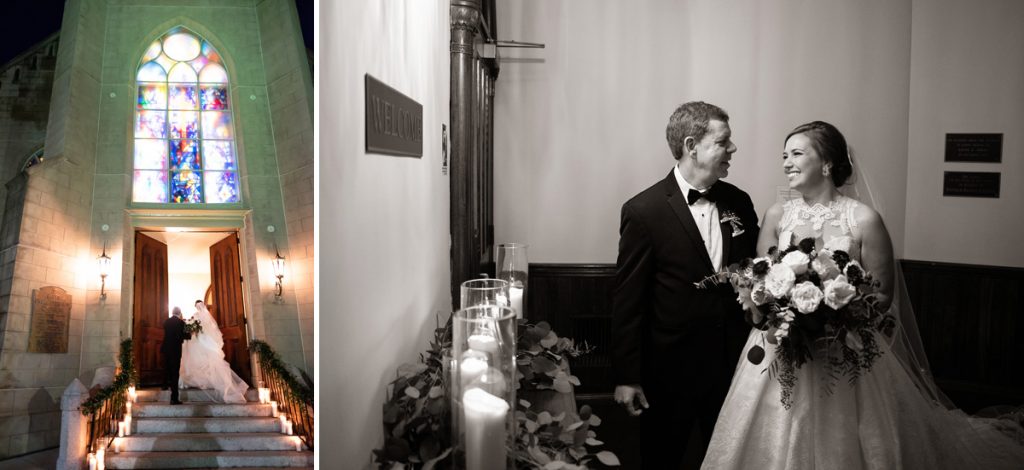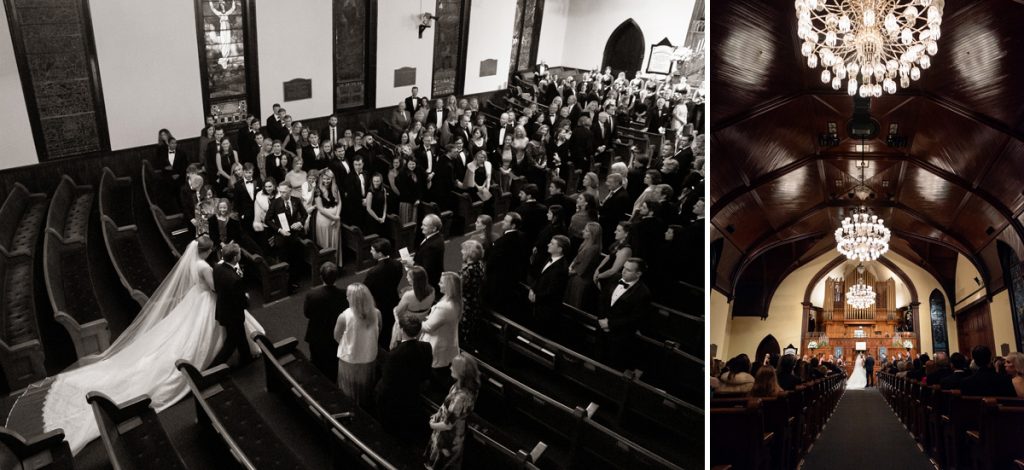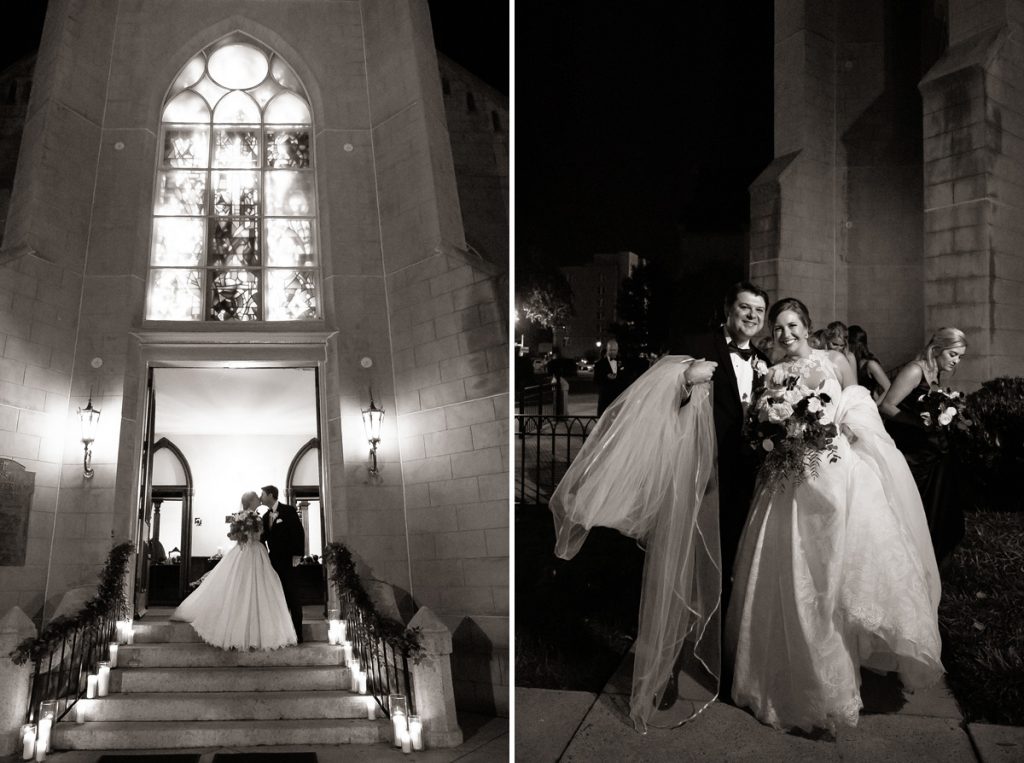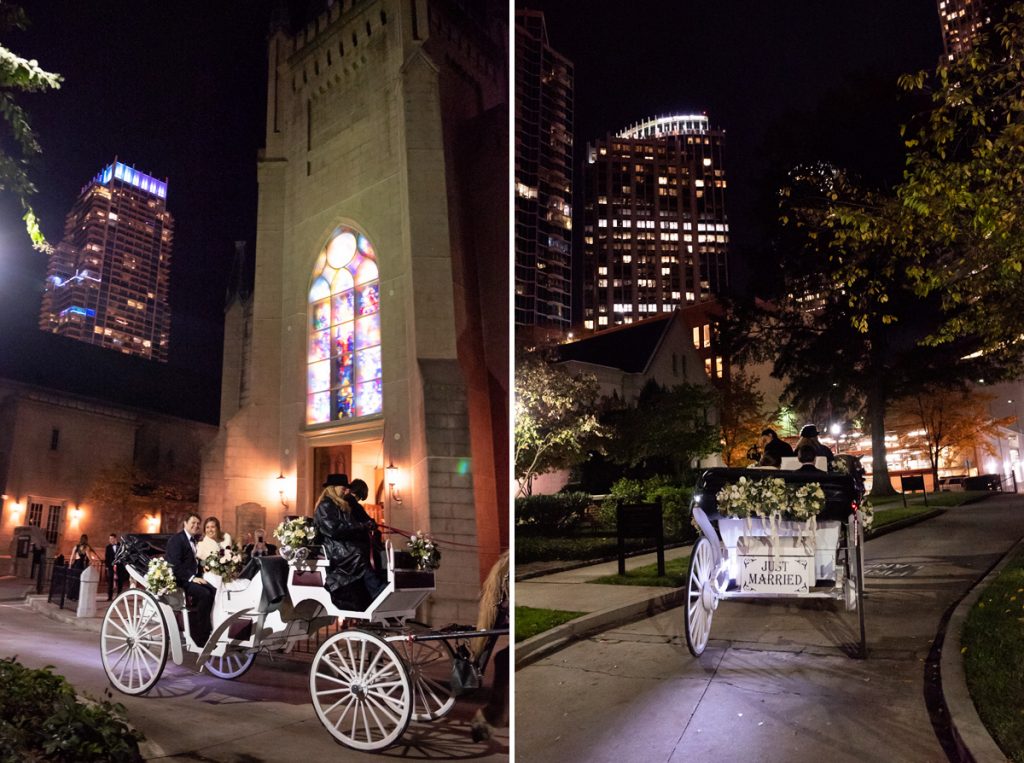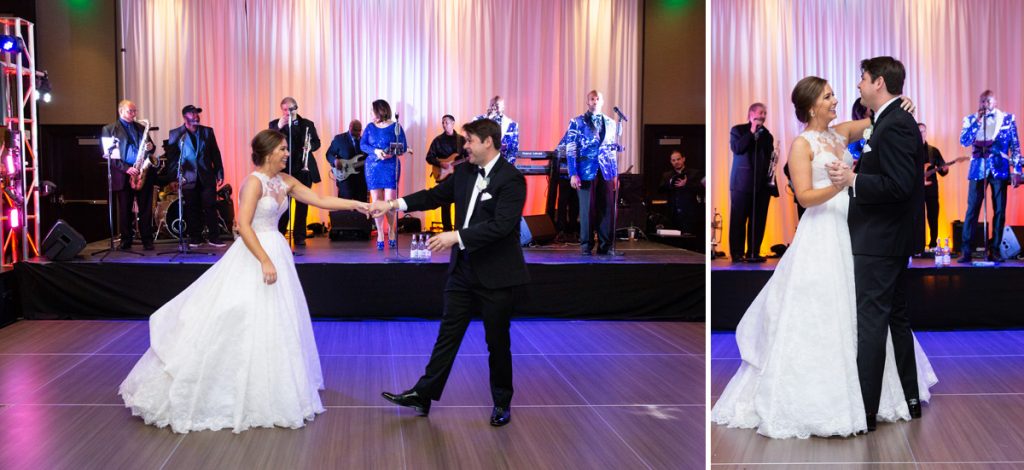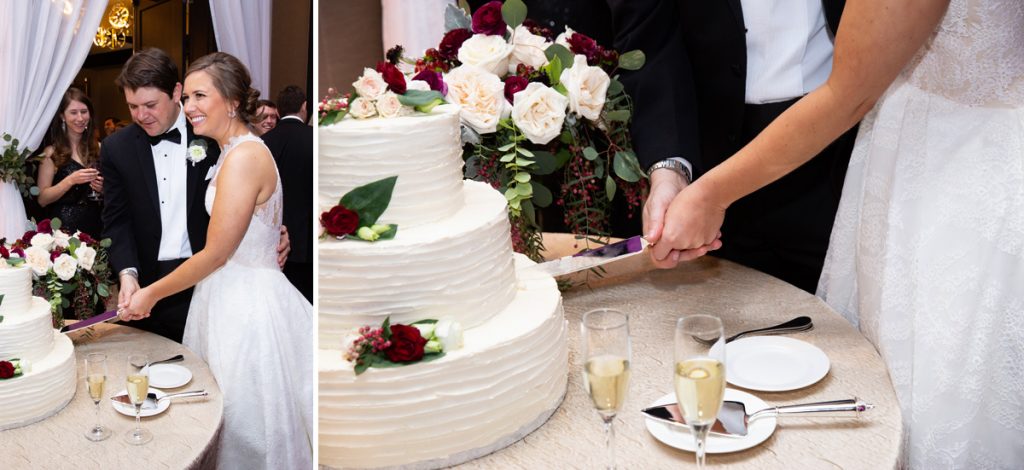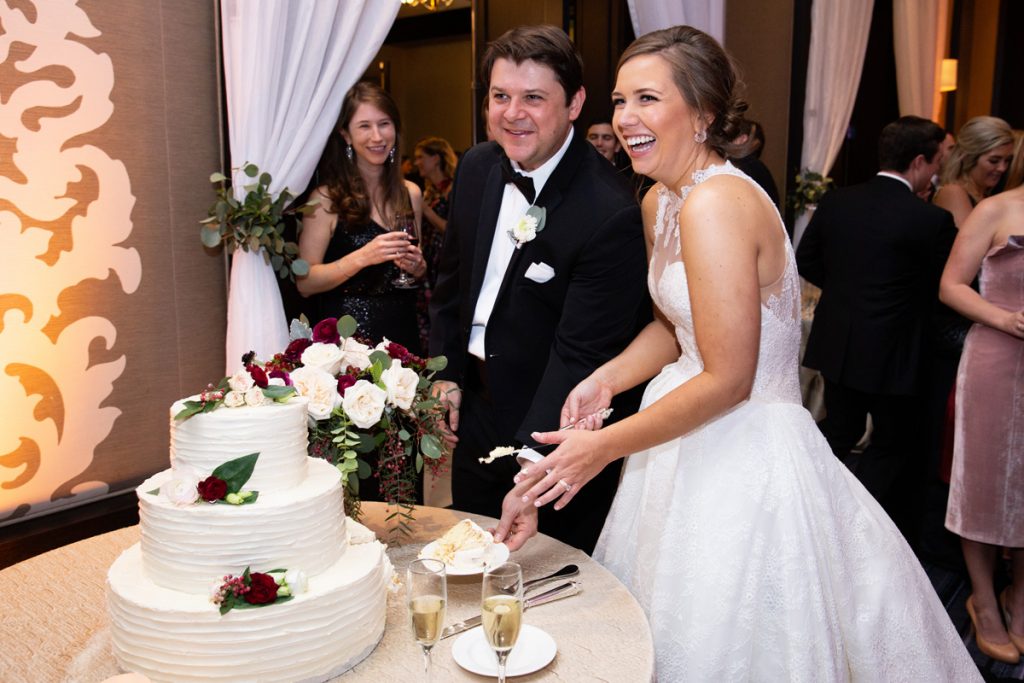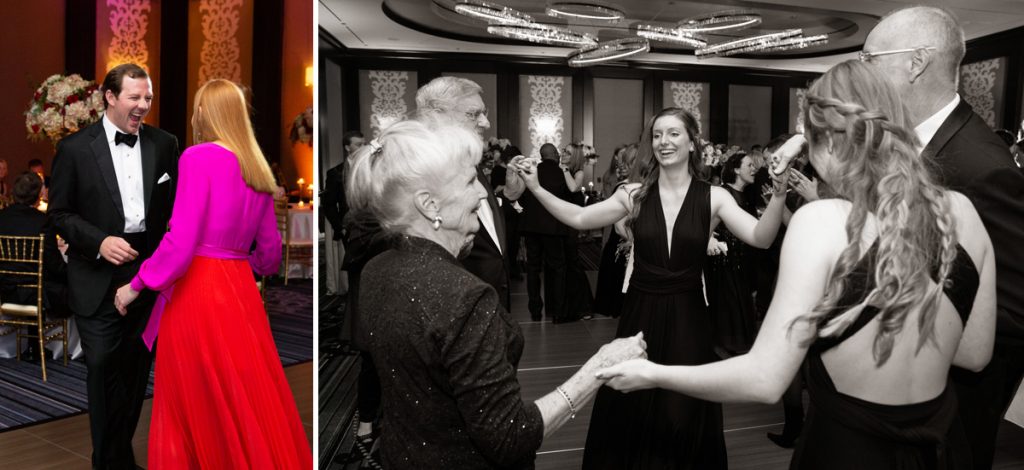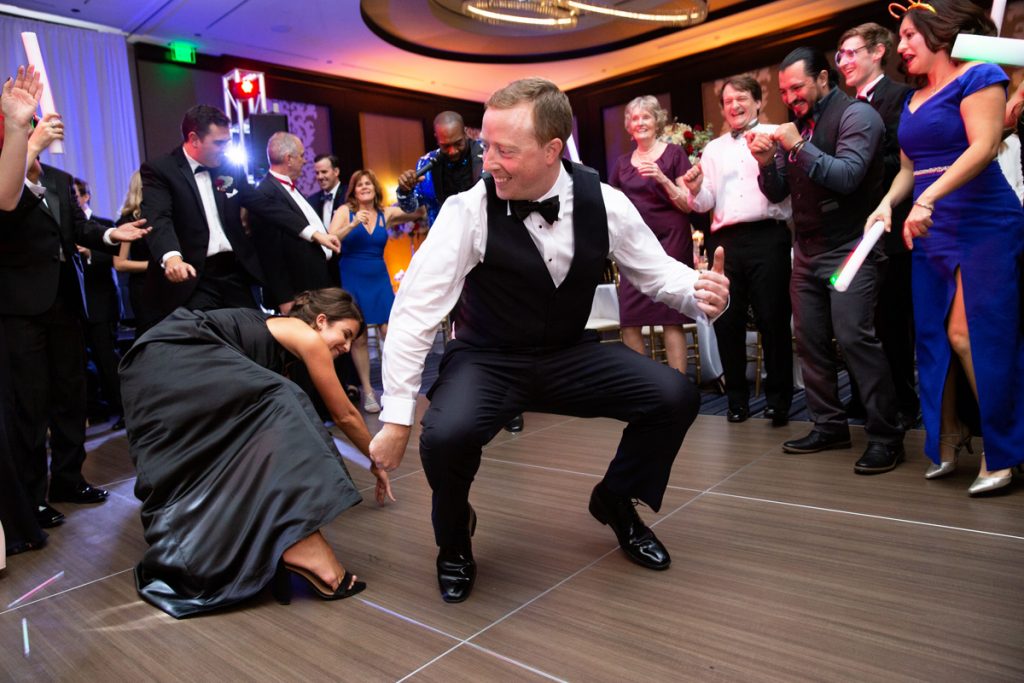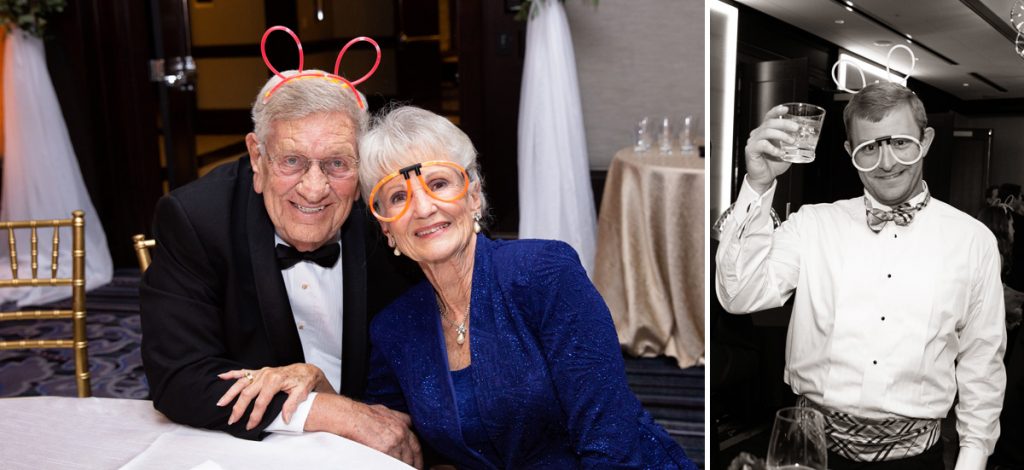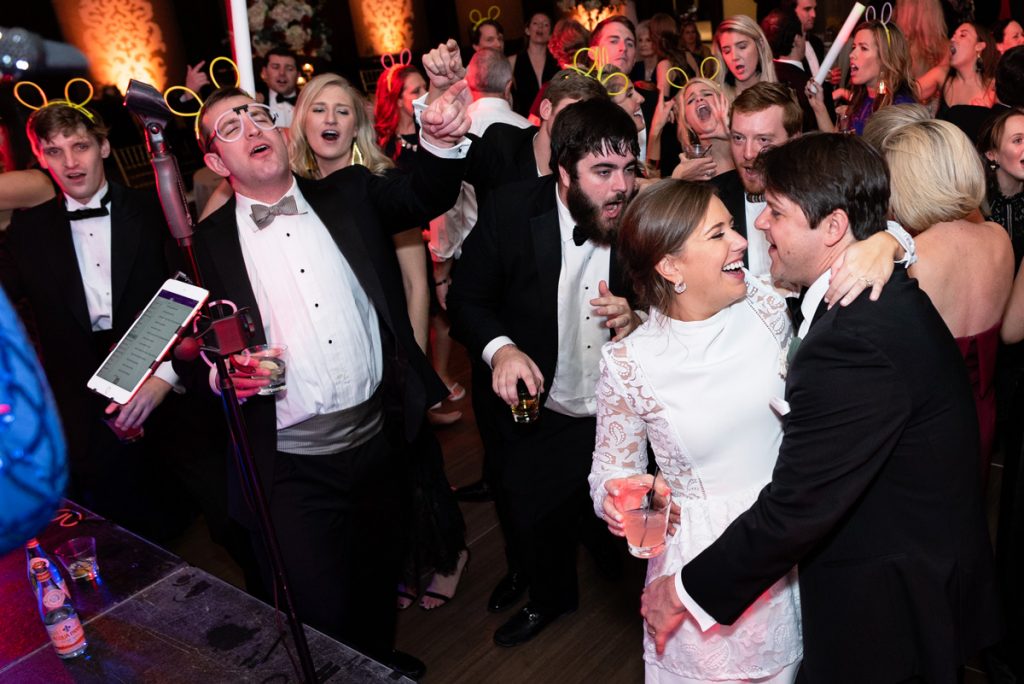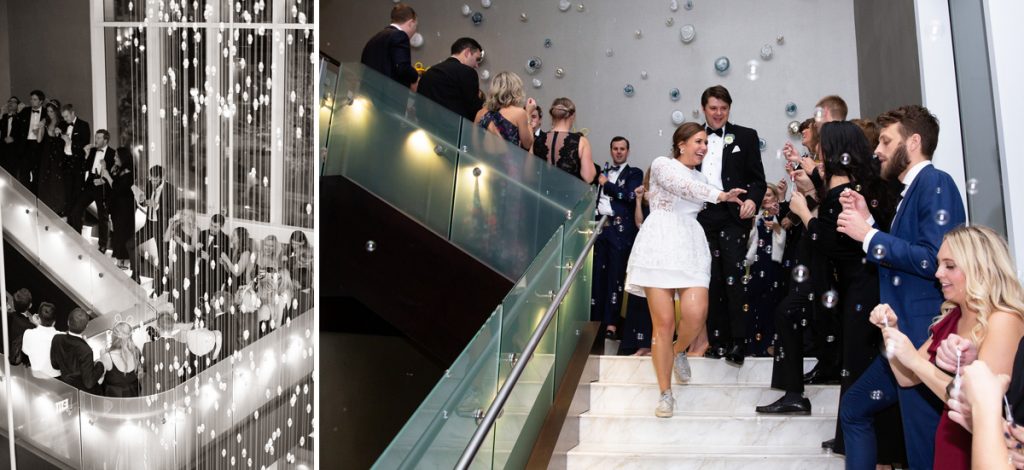 Be sure to check out Sara Caitlyn and Andrew's engagement session at one of my favorite hidden gems in Charlotte, the UNCC Botanical Gardens.